Wildfire in California: Gate fire under criminal investigation, authorities say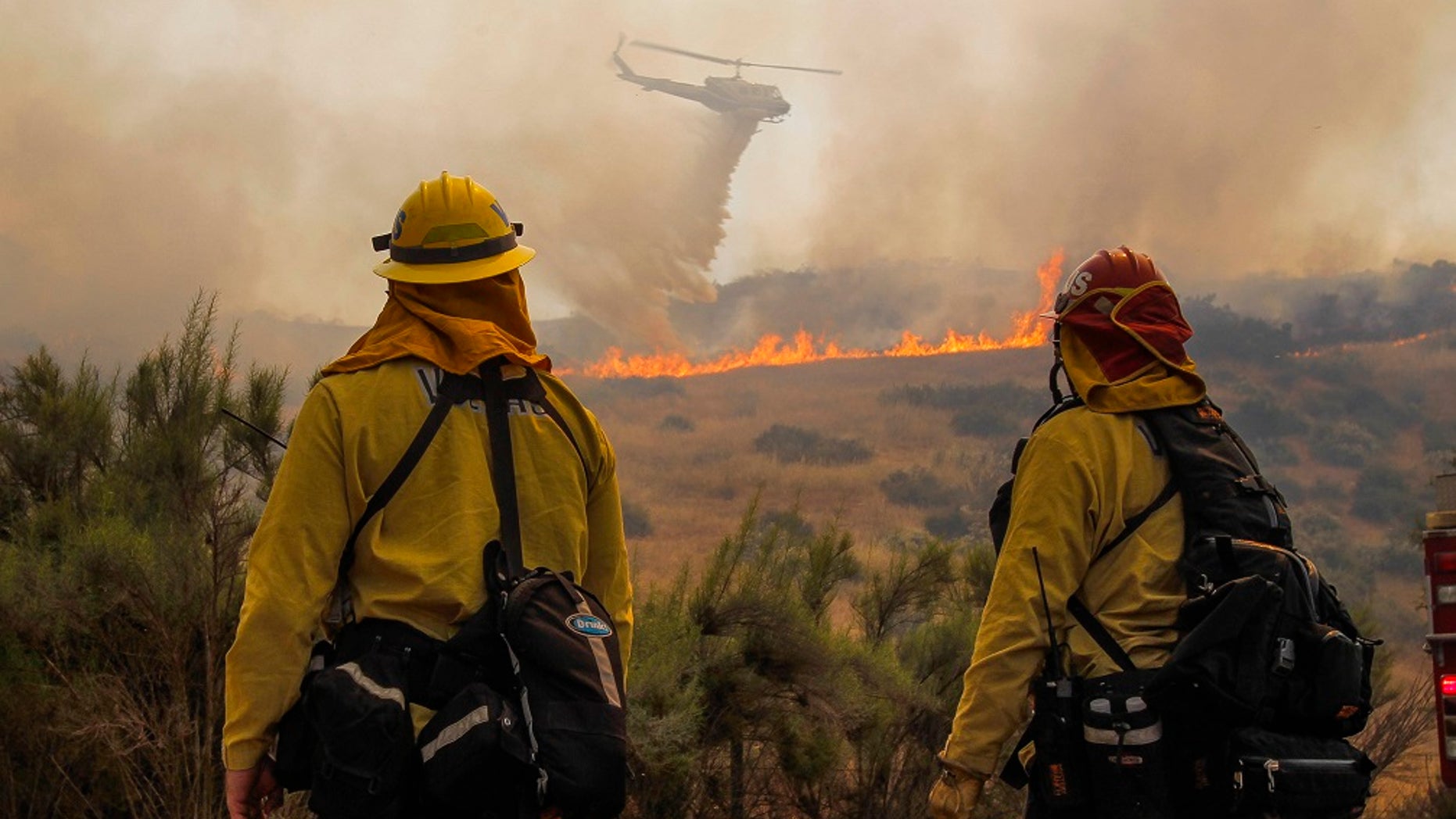 California officials have launched a criminal investigation into the cause of the Gate fire, which has burned more than 2,000 acres and forced hundreds to evacuate in southeast San Diego.
Cal Fire Capt. Issac Sanchez said a video posted on Instagram appears to show the fire igniting on Saturday south of Jamul and a group of people running away from it, according to Fox 5. The video cuts to a fire truck pulling up, then shifts to the scene of the blaze, now a large wildfire.
"The person who posted the video is cooperating with investigators and it has become a criminal investigation," Sanchez told City News Service.
WOMAN STRUCK, KILLED ON CALIFORNIA HIGHWAY ID'D 27 YEARS LATER
The person who recorded the video, Christopher Carvalho, told Fox 5 that he called 911 to report the fire. Carvalho believes it was irresponsible for the group of people allegedly involved in starting the blaze to leave before fire officials came.
WARNING: GRAPHIC LANGUAGE
According to the video's description, Carvalho wrote that he and his friend were shooting on Bureau of Land Management property when a group of people near them started the fire.
"They were shooting at their target and a flame started (most likely from a spark from their ammo)," Carvalho wrote in the video's description. He added that the fire was not intentional and they did try to put it out before calling 911.
Fire officials said the land where the fire started is a popular area for target shooting, according to the San Diego Tribune.
The blaze was reported to be about 10 acres when firefighters arrived at the scene, but grew at a "dangerous rate of speed," Sanchez said.
The fire, aided by dry and windy conditions, spread rapidly and burned more than two square miles.
Cal Fire reported the wildfire was 75 percent contained by Monday morning after a rise in humidity allowed firefighters to advance.
SERIAL BURGLARY SUSPECT ARRESTED AFTER BEING CORNERED BY RESIDENTS IN CALIFORNIA
Campers and residents of nearby Dulzura were evacuated. An evacuation warning remains in effect for that community, but residents were allowed to return.
Authorities said the Pio Pico RV Resort and Campground remains under evacuation because of the infrastructure damage, but did not reveal the extent of the destruction.
The Associated Press contributed to this report.