Wildfire destroys 30 homes in California, threatens another 300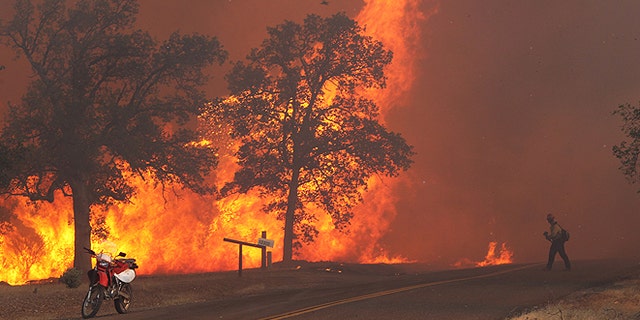 NEWYou can now listen to Fox News articles!
REDDING, Calif. – A wind-whipped, fast-moving wildfire in far Northern California has destroyed 30 homes and was threatening another 300, fire officials said Tuesday.
The Clover Fire near the rural community of Happy Valley in Shasta County began Monday and quickly spread through grass and oak, growing to more than 11 square miles
Some residents were given just minutes to evacuate as the fire jumped roads and engulfed residences, the Record Searchlight of Redding reported.
At one point, the flames spread at 500 acres an hour, officials said.
"It was the perfect storm," state fire spokeswoman Teresa Rea said.
Fire crews, however, made good progress against the blaze overnight, increasing containment from 5 percent to 40 percent.
"We're looking better," fire spokesman Mike Witesman said. "The winds are not as gusty today, which is a positive thing. But there is still potential that the fire could be caught by the wind and pushed out because we don't have a fire line around it."
Ty Romero, who lost his home, told the newspaper that he and his uncle quickly loaded a truck and fled as flames approached. They took two dogs but a third was missing.
"It wasn't even 10 minutes," he said. "I know a lot of the houses in the area burned."
Along with the homes, 50 outbuildings were destroyed and another 30 structures, mostly homes, were damaged, Witesman said. About 600 people were evacuated.
More than 1,100 firefighters were battling the blaze about 150 miles north of Sacramento. The cause was under investigation.
Gov. Jerry Brown secured a federal grant to help agencies pay for the cost of the Clover Fire.
Elsewhere, more than 3,000 firefighters were still battling the Rim Fire that has burned across nearly 400 square miles in and around Yosemite National Park. The cost of the effort has reportedly reached $100 million since it erupted on Aug. 17.
Authorities said the blaze was 80 percent contained after being caused by a hunter's campfire. It has destroyed nearly a dozen homes and almost 100 outbuildings.
Meanwhile, a fire burning in a San Francisco Bay Area wilderness park appeared to be under control.
Crews made progress overnight against the fire in Mount Diablo State Park in Contra Costa County, more than doubling containment and reducing the number of threatened homes to 75.
The fire was 45 percent contained, up from 20 percent the previous night, and had burned a little more than 5 square miles. That number was lowered from the previous day because of better mapping.
State fire spokesman Steve Kaufmann said the fire isn't showing much active behavior.