Wife of Ohio cop shooting suspect told 911 operator: 'My husband shot the police officers'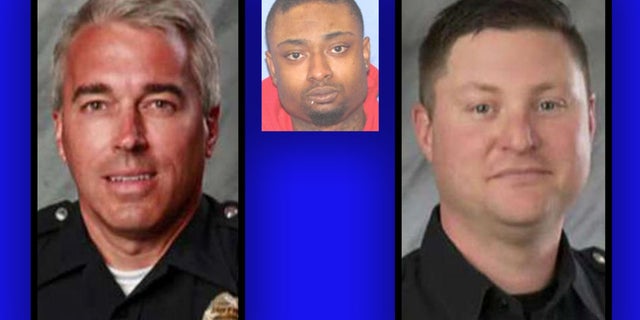 A 911 operator took a call after two Ohio cops were killed and heard a woman say "my husband shot the police officers" as she hid in the bushes, it was reported Sunday.
Veteran officers Anthony Morelli, 54, and Eric Joering, 39, were killed in a gun battle with violent criminal Quentin Smith in the Columbus suburb of Westerville Saturday. The officers had responded to Smith's home after a 911 hang-up call related to a domestic incident.
In subsequent 911 calls a female voice is heard crying as she identifies Smith as the man who shot the officers, the Cincinnati Enquirer reported.
The caller says "please help, please help" and "my husband shot the police officers," the paper reported.
She also says, "my daughter is in there."
When she is asked where she is, the woman says she is hiding in the bushes.
Westerville Police Chief Joe Morbitzer said Sunday at a press briefing that Morelli and Joering exchanged gunfire with Smith after making contact with him.
Authorities said Smith was wounded and was being treated at a hospital. Late Sunday, they announced that he was charged with two counts of aggravated murder in the deaths of Morelli and Joering.
"The groups that we have been thinking about over the past 24 hours, of course have been the families of both officers," Morbitzer said at police headquarters in front of makeshift-memorial for the officers.
Police released incident reports late Saturday showing police had been to the Smith home or had dealings with him several times since 2017, some for alleged domestic violence involving a woman identified in the reports as his 33-year-old wife, Candace Smith.
In a Nov. 29 incident, Candace Smith went to a police station and asked about protection orders because she said she and her husband weren't getting along and she discovered she had a sexually transmitted disease. She also told police that when she "threatens to leave Quentin, he tells her that he would kill her, their daughter, and himself," the report said.
Candace Smith told police her husband "has a gun that he carries all of the time, and if it isn't on him, it is close by." Police were called to the home later that night to investigate a report of domestic violence.
TWO SLAIN OHIO OFFICERS WERE 'TRUE AMERICAN HEROES,' POLICE CHIEF SAYS
Police had been called to the home as recently as three weeks ago for a reported disturbance, the Enquirer reported. The home's residents, however, told police at the time there was nothing wrong.
Smith had a rap sheet that included indictments for violent crimes like burglary, domestic violence and felony assault when he lived near Cleveland about a decade ago, Fox 28 Columbus reported. He had pleaded guilty to the burglary and domestic violence charges, and spent some time in jail, pending trial.
Joering had been a Westerville officer for 17 years. Morelli had been a member of the force for 30 years.
At Sunday's news conference Morbitzer lashed out at people who were trying to benefit from the tragedy by establishing phony GoFundMe pages to solicit funds.
Chief Morbitzer also said people have been calling the police department screaming threats, obscenities and vulgarities. "Quite frankly, there's a special place in hell for those people," he said. "And my wish is that it comes very soon."
The Associated Press contributed to this report.