Wicked winds blow train cars off bridge in Texas
Severe "straight-line winds" in excess of 41 mph blew several train cars in eastern Texas off a railroad bridge and onto a roadway about 20 feet below Sunday morning, according to a Facebook posting from the Lufkin Police Department.
The train cars were believed to be empty and no injuries have been reported, according to KTRE.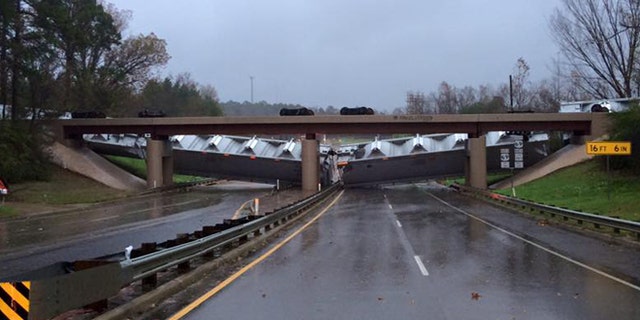 The first call of the derailment came into dispatch at 7:18 a.m. local time.
The wicked weather in Angelina County also led to some downed power lines, cops said. A video posted on the LPD's Facebook page showed electric lines sparking as rain fell. The worst is mostly over, however, with just a half-inch to an inch of rainfall likely to come, according to the National Weather Service in Shreveport.
"Be cautious when driving this morning and if at all possible, STAY HOME!!!" an LPD Facebook post said.
(function(d, s, id) { var js, fjs = d.getElementsByTagName(s)[0]; if (d.getElementById(id)) return; js = d.createElement(s); js.id = id; js.src = "//connect.facebook.net/en_US/sdk.js#xfbml=1&version=v2.3"; fjs.parentNode.insertBefore(js, fjs);}(document, 'script', 'facebook-jssdk'));