When San Jose market's raw meat supply comes by stacked shopping cart, time to investigate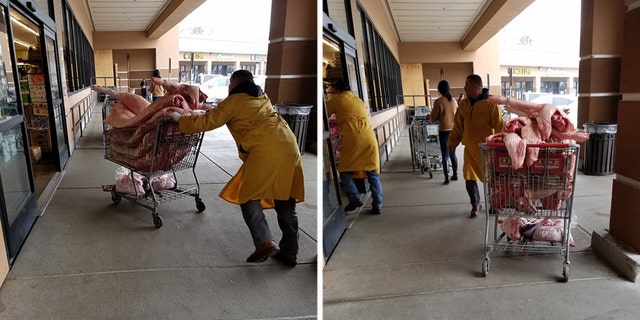 When Loretta Seto stopped at 99 Ranch Market for a few barbecue supplies from the San Jose, California, business, she never expected to see what she did: raw meat being transported to the store in Costco shopping carts.
"Talk about disgusting! I'm usually OK with sticking the kids in the seat of the basket, but this is a whole new level of gross. Beware," she wrote in a Facebook post. As of Saturday afternoon, the post had been shared more than 1,000 times.
" ... this is a whole new level of gross. Beware."
A representative for 99 Ranch Market responded to Seto's post in the comment section. "We are taking the necessary steps to resolve this issue by investigating this case further and filing a complaint against our vendor," the representative wrote, according to a local NBC affiliate, which also identified the meat vendor as Jim's Farm Meats in Winton.
While it's not yet clear why shopping carts were used to transport the meat, the carts most likley came from the Costco warehouse across the street from the market, according to SFGate.
In response, The Santa Clara Department of Environmental Health is now investigating the incident, according to Fox 8.
Jim's Farm Meats and 99 Ranch Market did not immediately return Fox News' request for additional comment.