Many of the suspicious devices sent to Obama, Clinton, CNN had similar appearances, official says
Many of the devices sent to prominent political figures this week -- including former President Barack Obama and former Secretary of State Hillary Clinton -- are similar to a device that forced the evacuation of CNN's New York headquarters, a law enforcement official directly involved in the investigation told Fox News on Wednesday.
The official said that many of the devices -- described as "crude pipe bombs" by the New York Police Department -- have the same labeling, yellow packaging and excessive postage, leading investigators to believe that a single individual or group could be behind the devices. The official added that there is strong forensic evidence to determine who is responsible.
The U.S. Secret Service intercepted a bomb that was addressed to Hillary Clinton at the Chappaqua, N.Y., home she shares with former President Bill Clinton and another that was sent to former President Obama at his home with Michelle Obama in Washington. A police bomb squad removed still another from CNN's New York headquarters at the Time Warner Center in midtown Manhattan, which was evacuated.
The pipe bomb delivered to the home of George Soros earlier this week also had that similar appearance, the law enforcement official said.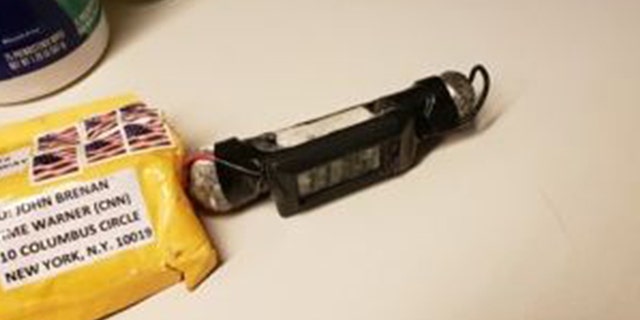 The device sent to CNN was taken to an NYPD facility in the Bronx. Police officials said the envelope sent CNN contained a live explosive and an envelope with "some kind" of white powder. Officials said the substance was being tested to determine if it was dangerous. Other forensic investigations were underway Wednesday at the FBI lab in Quantico, Va. and other government agencies were closely examining their mail inventories.
The FBI also said it was responding to a report of at least one suspicious package at a Florida office of Rep. Deborah Wasserman Schultz, the former head of the Democratic National Committee. Law enforcement sources told Fox News that the package in question was addressed to former Attorney General Eric Holder and was returned to Schultz's office because the address given for Holder was incorrect.
A law enforcement source also tells Fox News that U.S. Capitol Police were investigating a suspicious package addressed to Rep. Maxine Waters, D-Calif., at the Capitol Hill mail screening facility. In a statement issued Tuesday afternoon, Waters said Capitol Police had told her that "my Washington, DC office was the target of a suspicious package that has been referred to the FBI.
"I am appreciative of the law enforcement entities who intercepted the package and are investigating this matter," Waters added. "I unequivocally condemn any and all acts of violence and terror."
A second official who is also involved in the investigation told Fox News that the choice of a pipe bomb is unusual because there is no obvious way to detonate it. A common explosive device sent by mail uses musical greeting cards to trigger the detonator.
Fox News has reported previously that law enforcement officials have seen an uptick in package bombs since the middle of 2016.
"We have seen an increase in high explosives and people making their own explosives that are very sensitive, that are very volatile," intelligence analyst Rebecca Miller told Fox News last month.
Fox News' John Roberts and The Associated Press contributed to this report.