What happened to $400G in GoFundMe cash? That will be made 'crystal clear,' New Jersey man says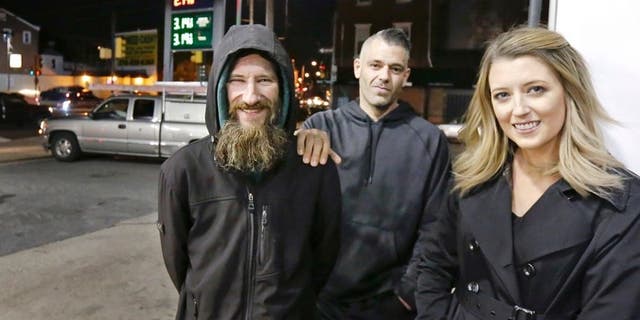 Mark D'Amico, who along with his girlfriend helped raise roughly $400,000 for a homeless good Samaritan - only for the money to never be fully handed over - promised Tuesday that details of what happened would ultimately become "crystal clear."

D'Amico's remarks to a reporter came while he was at a courthouse in New Jersey for a separate case, according to The Associated Press.
Criminal charges have not been filed against D'Amico or his girlfriend, Kate McClure, who together created a GoFundMe account and raised funds for Johnny Bobbitt, a homeless veteran who in November 2017 gave McClure his last $20 after she was stuck on the side of a Philadelphia roadway.
The Burlington County Prosecutor's Office previously said they were investigating the couple.
HOMELESS PHILADELPHIA MAN JOHNNY BOBBITT WILL GET HIS $400G, GOFUNDME SAYS
Following the encounter between Bobbitt and McClure, roughly $400,000 was raised for him as a thank you.
In the time since, the group's relationship has deteriorated, with Bobbitt filing a lawsuit against the couple and his attorney claiming that he received just a portion of the funds.
Once the money came in, Bobbitt said he gave some to relatives and also spent it on drugs, and the couple claimed they withheld the money to help him.
He ultimately received roughly $75,000 from the GoFundMe, which he used to purchase a camper and SUV — both of which he no longer has.
POLICE RAID NEW JERSEY COUPLE'S HOME AFTER $400G IN GOFUNDME CASH THEY RAISED FOR HOMELESS VETERAN DISAPPEARS
Bobbitt accused the two of mismanaging the donations, which the couple initially denied. Last month, D'Amico claimed that he controls the funds and will dispense the money when Bobbitt gets a job and stops using drugs.
The lawyer for McClure and D'Amico ultimately told a court that he learned there was no money left. It's unclear what exactly happened to the money.
The pair's New Jersey home was raided earlier this month by authorities and a black BMW vehicle was caught on video as it was carted away.
Fox News' Nicole Darrah and The Associated Press contributed to this report.