Western wildfires: Wind, heat fueling large blazes chasing people from homes in dry states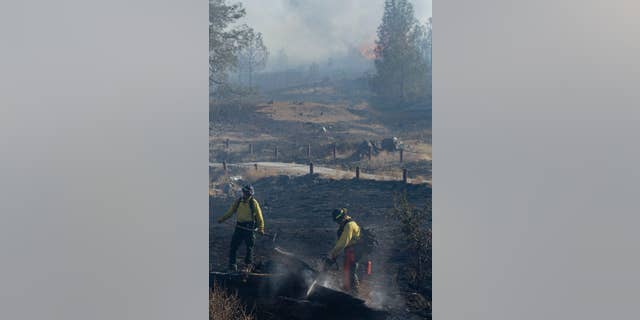 Winds in the West are helping stoke wildfires sweeping across the Northern Rocky Mountains, Pacific Northwest and elsewhere, posing problems for firefighters trying to contain the flames fed by drought.
Firefighters across the Pacific Northwest are working to protect property from fast-moving wildfires that destroyed multiple homes in eastern Oregon, cut off power in Washington and forced thousands of evacuations throughout the region.
Drought conditions, winds and dry brush are combining to fuel wildfires throughout the West.
A look at conditions:
___
OREGON
Two large fires in Oregon have burned through buildings and forced evacuations as strong winds pick up, sending guests of a resort fleeing.
A fire on the Warm Springs Indian Reservation in rural central Oregon exploded to more than 50 square miles Friday, forcing evacuations of a rural subdivision and a resort that had 400 guests booked Thursday night.
The fire was expected to keep growing as strong winds push it through dry grassland. Sparks from a passing vehicle started the flames earlier this week that destroyed three structures, including a mobile home.
In eastern Oregon, a 34-square-mile, lightning-sparked fire Friday burned 20 to 25 structures south of Canyon City and forced evacuations of residents in the area, while others were warned to be ready to leave quickly, KTVZ-TV in Bend reported.
___
NORTHERN ROCKY MOUNTAINS
Smoke from wildfires has prompted the Montana Department of Environmental Quality to issue an air quality alert for counties in the southwest part of the state, including Missoula.
The alert was in effect until 4 p.m. Saturday.
Large fires are burning in western Montana forests and grasslands, sending up heavy smoke. Fires are burning in several national forests, including Glacier National Park, the state's biggest.
Some rain on Friday fell around the wildfire, which has burned nearly 21 square miles in Glacier.
Meantime, red flag warnings have been posted for much of northern Montana, including Great Falls and Helena.
Cooler weather is moving into the state, which should help ease the fire threat.
___
CALIFORNIA
Crews contained a blaze that threatened Southern California homes but a second blaze remained out of control after destroying several cabins and nearly four square miles of forest near Los Angeles.
A half-dozen campgrounds remained evacuated in the Angeles National Forest above the Los Angeles suburbs of Glendora and Azusa, where a 2,500-acre blaze burned three cabins and an outbuilding on Friday.
Fire crews were clambering along rocky ridges in 95-degreetures. Six were treated for heat exhaustion, dehydration and injuries.
Firefighters were mopping up a 189-acre fire that erupted Friday in Simi Valley, northwest of Los Angeles.
The blaze, which burned on rolling hills close to subdivisions containing 500 homes, was contained overnight without any building damage.
In Northern California, firefighters made more gains against a wildfire 100 miles north of San Francisco that forced mountain-town dwellers to evacuate for the second time in days. Winds shifts sent smoke from the fire all the way to the San Francisco Bay Area, where residents turned to social media to report the haze. The National Weather Service said smoky conditions were likely to remain in the area throughout Saturday.
Two fires have charred dry Lower Lake, the most recent burning 38 square miles of thick brush and oak trees in Lake and Napa counties. It was 78 percent contained by Saturday.
An earlier, larger fire in the same area was finally fully contained Friday more than two weeks after it broke out. The blaze destroyed 43 homes.