West Virginia teachers strike continues after senate cuts their pay raise
Unions representing West Virginia teachers said their strike would continue on Monday after state lawmakers voted to cut the 5 percent pay increase they had negotiated with Republican Gov. Jim Justice.
The American Federation of Teachers-West Virginia, West Virginia Education Association and the School Service Personnel Association said the senate left them no choice after voting to reduce their raise to 4 percent on Saturday night, according to the Chicago Tribune.
The inability to agree on salary terms is impacting 277,000 students— who have been out of school since Feb. 22 — and 35,000 employees in West Virginia, where teacher salaries start at about $33,000, which is among the lowest in the country.
Republicans in the State Senate, who have emphasized fiscal restraint with spending, do agree that teachers are underpaid.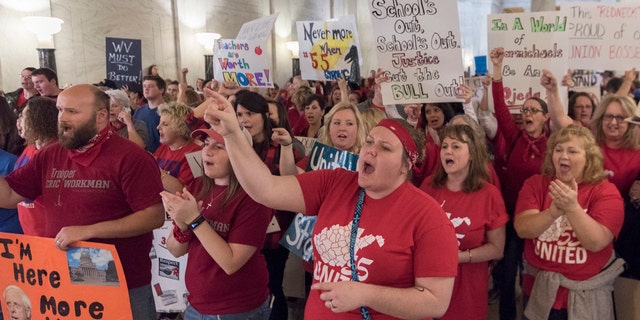 "That compensation increase is long overdue," Sen. Charles Trump, a Republican, told the Chicago Tribune.
However, lawmakers said that approving a 4 percent raise, instead of the 5 percent hike, would save West Virginia $17 million.
Hundreds of teachers and their supporters, including some students, continued to protest at the Capitol on Friday to plead for better wages.
Democrats called on their Republican colleagues to approve a deal negotiated by Gov. Justice and the unions for a 5 percent pay hike.
"We're all caught up in our egos," said Democratic Sen. Douglas Facemire of Sutton, reports the Chicago Tribune. He noted the impact of the impasse on students, including those who depend on schools for their meals. "For 1 percent we're going to let kids go hungry," he said.
Justice said in a series of tweets on Saturday night that he prefers a 5 percent pay increase for teachers and would like to negotiate the larger increase for all of the state's public employees as well.