West Point cadet who said star quarterback raped her drops out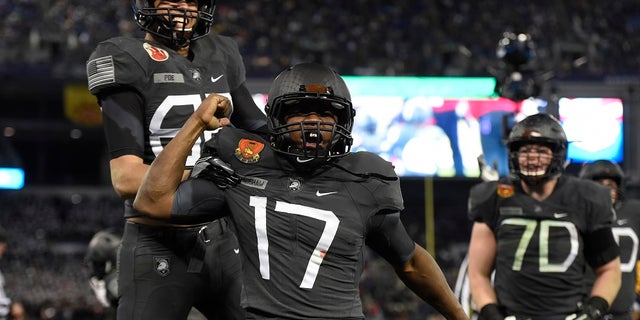 NEWYou can now listen to Fox News articles!
A former West Point cadet said she dropped out following the academy's lackluster response to rape claims she made against its star quarterback.
Madeline Lewis told The Daily Beast she was destined to attend West Point and follow in her grandfather's footsteps. "West Point was just something I grew up with," she said.
Lewis attended the school in 2014 but was injured during basic training and had difficulties with her roommate.
NAVY SAILOR STAGED RACIST VANDALISM, INVESTIGATION FINDS
"I kick myself now for not just leaving after I got hurt," she said. "But I wanted to be there."
The former cadet said one night she returned to her room after showering and found that Ahmad Ali Bradshaw, the quarterback, was there. He was best friends with her roommate, Lewis said.
Lewis alleged that Bradshaw raped her that night. The former cadet filed a formal report with the school, but Bradshaw denied the allegations.
After she filed the report, Lewis was given a rape test by the Army's medical hospital and was put on 24/7 suicide watch.
NAVY DISCIPLINE AVIATORS OVER LEWD IMAGES IN THE SKY
"If you can think of someone holding a vial of poison, and handing it off to another person because no one wanted to touch it," Lewis said, "that's how I was treated."
The school started an investigation led by Maj. Damon M. Torres, who concluded that the two cadets had had a consensual sexual relationship. It was not immediately clear how or why Torres reached that conclusion, The Daily Beast reported.
The Army Criminal Investigation Division and Staff Judge Advocate opened a second investigation and found "insufficient evidence to charge Bradshaw with sexual assault."
He was charged with violating the Cadet Disciplinary Code for "improper use of government facilities by way of sexual activity, which includes, but is not limited to: kissing, hand holding and fondling," according to West Point regulations.
Torres suggested Bradshaw be punished by the Brigade Board and sign up for the Respect Mentorship Program. He was also barred from playing football while the investigation played out.
Lewis said the school punished her with isolated detention. Following the accusations, she said, she was targeted online by fellow cadets who called her "the whore of the corps." Lewis said she had sexual relationships with a few West Point cadets, which was used against her by her fellow classmates.
In the end, she transferred to a state college and has not returned since July 2015.
"I am not Class of 2019 nor could you pay me enough to join an institution who treats their comrades in arms so poorly. USMA has got their work cut out for you," Lewis wrote on Facebook.
The academy released a statement reading: "The Army takes all allegations of sexual assault seriously, and every allegation of sexual assault is thoroughly investigated. The Army and The U.S. Military Academy are aware that sexual assault allegations from a single incident were made against Cadet Bradshaw in 2014 and that the allegations were thoroughly investigated by the U.S. Army Criminal Investigation Command. The investigation concluded that the allegations against Cadet Bradshaw were unfounded and the case was closed."
Bradshaw has continued as quarterback for the school. He was accused of cheating in 2016, but was slated to play Saturday in the school's annual game against the rival U.S. Naval Academy.