Watch: Officer carries elderly woman to safety when truck bursts into flames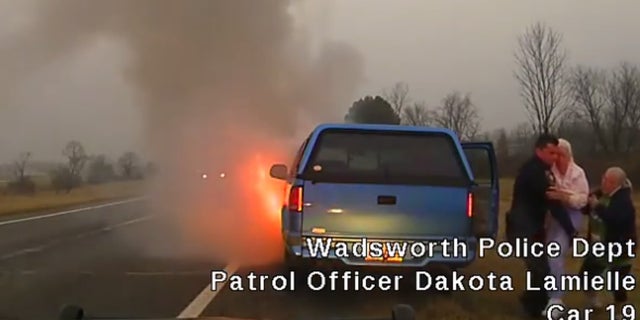 NEWYou can now listen to Fox News articles!
A police officer helped two women whose vehicle burst into flames at the side of the road last week in Wadsworth, Ohio.
Officers were called to reports of a vehicle driving erratically. Officer Cody Lamielle, who was on patrol, spotted the vehicle and initiated a traffic stop.
The driver, Darlene Richmond, of Copley, Ohio, told him she was having mechanical difficulties. Lamielle spotted smoke and flames coming from under the hood and was able to get the driver and her elderly mother to safety.
"It's a blessing I'm alive. I have an angel, and maybe I have two at this point. I know I could be dead right now and I don't want to be dead. I have too much to live for." Richmond told FOX8 that her 88-year-old mother, Helen Miller, who has Alzheimer's, was in the passenger seat.
CLICK HERE TO READ MORE FROM FOX8.