Washington wildfires erupt as California evacuees return home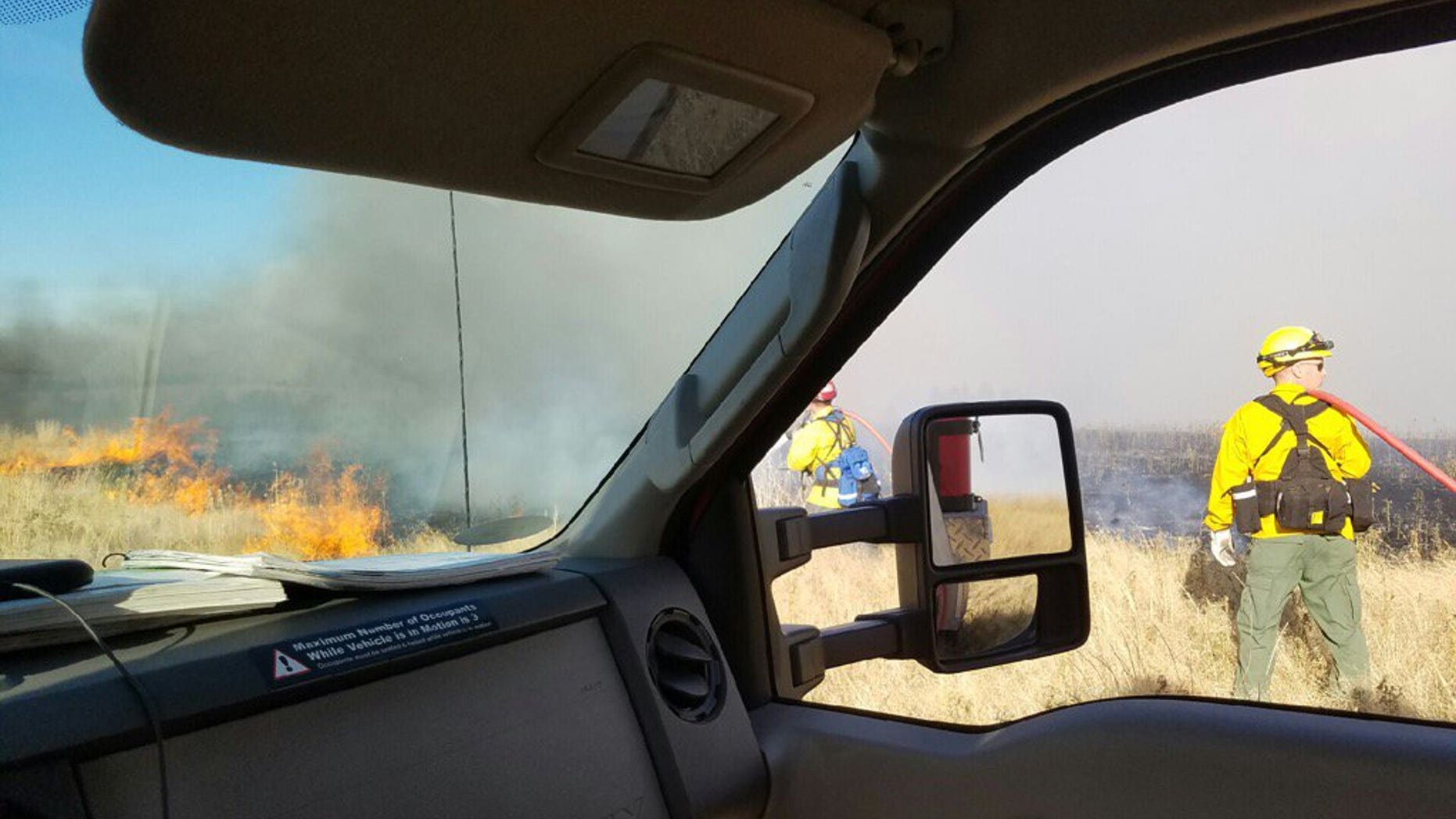 Firefighters on Monday battled fast-moving wildfires in eastern Washington that destroyed homes and forced hundreds of people to escape the flames, as tens of thousands of homeowners returned to what was left of their houses in California.
Three blazes in the Spokane, Washington region erupted Sunday afternoon, sending families rushing to pile pets and keepsakes into vehicles and hit the road.
The Spokesman-Review reported that homes burned in the Beacon Hill area of Spokane, in wheat country near Spangle and north of Davenport in nearby Lincoln County.
But the extent of the losses and number of evacuees was unclear as firefighters prepared to work through the night and into Monday morning. No injuries have been reported.
In California, about 82,000 people were ordered to leave their properties Tuesday, 60 miles east of Los Angeles. As firefighters advanced on the blaze, evacuation orders were gradually lifted.
Most of those residents are returning to find their homes intact, though not all. A preliminary damage assessment found 105 homes and 216 outbuildings destroyed across the rural, mountainous area where large swaths of land have been blackened.
Washington's three blazes scorched nearly seven square miles of terrain altogether and sent plumes of smoke billowing high over the region.
Residents evacuating from the Beacon Hill-area fire on Spokane's northeast end, where a blaze had scorched 250 acres by Sunday evening, met other homeowners trying to get into their properties, only to be met with roadblocks. The Spokane newspaper said many were left wondering if their homes would be spared.
The largest of the fires began when a power line came down in a field near Spangle, south of Spokane. The blaze chewed through almost four square miles as it raced across the parched landscape, consuming wheat stubble, brush and trees -- and a few homes.
In Lincoln County, about 35 miles east Spokane, a 2.5-square-mile wildfire north of Davenport jumped the Spokane River and threatened dozens of homes, engulfing several of them, the paper reported.
A prolonged drought has transformed swaths of California into tinderboxes, ready to ignite. A half-dozen other wildfires were burning in the state, including one in central California that destroyed 34 homes and forced the closure of the famed Hearst Castle.
That fire has burned 43 square miles since it began August 13. It remained 35 percent contained. Fire spokeswoman Jaime Garrett said the fire was growing in the opposite direction of the Hearst Castle, a popular tourist attraction that houses a large art collection that belonged to media magnate William Randolph Hearst.
In rural Santa Barbara County, a 33-square-mile wildfire that forced the evacuation of two campgrounds was 20 percent contained.
In the southern Sierra Nevada, another blaze feeding on dense timber in Sequoia National Forest forced the evacuation of several tiny hamlets.
In Northern California, fire crews were gaining control Sunday on an arson fire that destroyed 189 homes. Officials said the 6-square-mile fire in Lower Lake was 95 percent contained.
A nearly monthlong blaze burning near California's scene Big Sur is not expected to be fully contained until the end of September. The fire has destroyed 57 homes and charred 133 square miles, Cal Fire said. It is 60 percent contained.
The Associated Press contributed to this report.