Washington watchdog files FOIA into Mnuchin's Fort Knox trip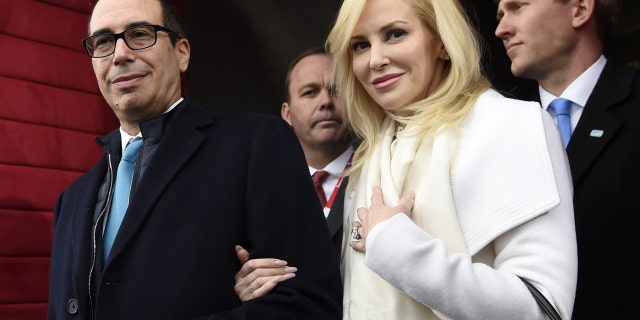 A Washington-based watchdog on Wednesday filed a Freedom of Information Act to learn more about Treasury Secretary Steven Mnuchin and his wife's now-famous trip to Kentucky to watch the solar eclipse.
"We're not sure about the motive for the trip, but we filed the [Freedom of Information Act request] to get more information about it," Jordan Libowitz, a spokesman for Citizens for Responsibility and Ethics, told the Washington Post.
In all likelihood the Monday trip would have gone unnoticed. But Mnuchin's wife, Louise Linton, posted a picture of the two deboarding a government plane and started an Instagram firestorm.
She tagged some of the luxury items she was wearing, and that prompted one user to post: "Glad we could pay for your little getaway. #deplorable."
Linton, an actress, went on to confront the woman while boasting about their wealth. She later apologized.
Sen. Ron Wyden, D-Ore., and the group are now looking into purpose of the trip given the timing corresponding with the solar eclipse.
Treasury officials told the paper that the trip was around "official government travel," and denied that the visit to Fort Knox visit was just a ploy to view the eclipse.
An unnamed Treasury spokesperson told the paper that Mnuchin "is reimbursing the government for Mrs. Linton's travel, as is long-standing policy regarding civilians on military aircraft." The rate can reportedly go for $10,000 an hour.
Mnuchin appeared with Senate Majority Leader Mitch McConnell at a luncheon with the Louisville Chamber of Commerce, the report said. The two went on to tour the gold bullion depository in Fort Knox, valued at around $180 billion.