Washington student accused of bringing gun to school, sparking panic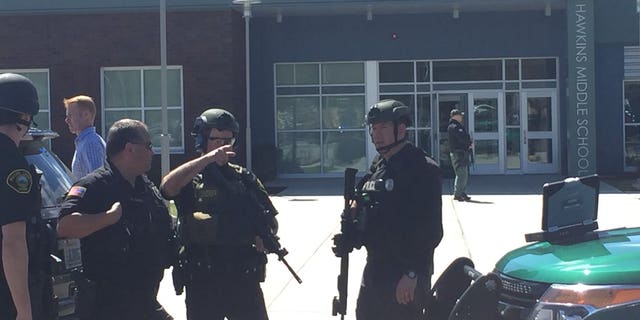 NEWYou can now listen to Fox News articles!
A student in Washington was taken into custody on Wednesday after reportedly carrying a gun onto school grounds, sparking false reports of an active shooter.
Officials evacuated Hawkins Middle School in Belfair after the building went on lockdown, Q13 Fox reported.
DELAWARE TROOPER SHOT OUTSIDE CONVENIENCE STORE
Reports of a school shooting at Hawkins middle school. Officers from multiple agencies are on scene. We are clearing the school now. pic.twitter.com/KzipTlasCW

— Mason County Sheriff (@MasonCoSheriff) April 26, 2017
The student was a senior at the neighboring high school, North Mason School District Superintendent Dana Rosenbach told The Seattle Times. Rosenbach did not say how the gun was discovered.
The active shooter reports were later determined to be false according to the Mason County Sheriff's office.
But the school was still evacuated and the sheriff's office said that multiple agencies had been brought to the scene to investigate.
Belfair is about 30 miles southwest of Seattle.