Washington state family of 3 killed by falling concrete from construction site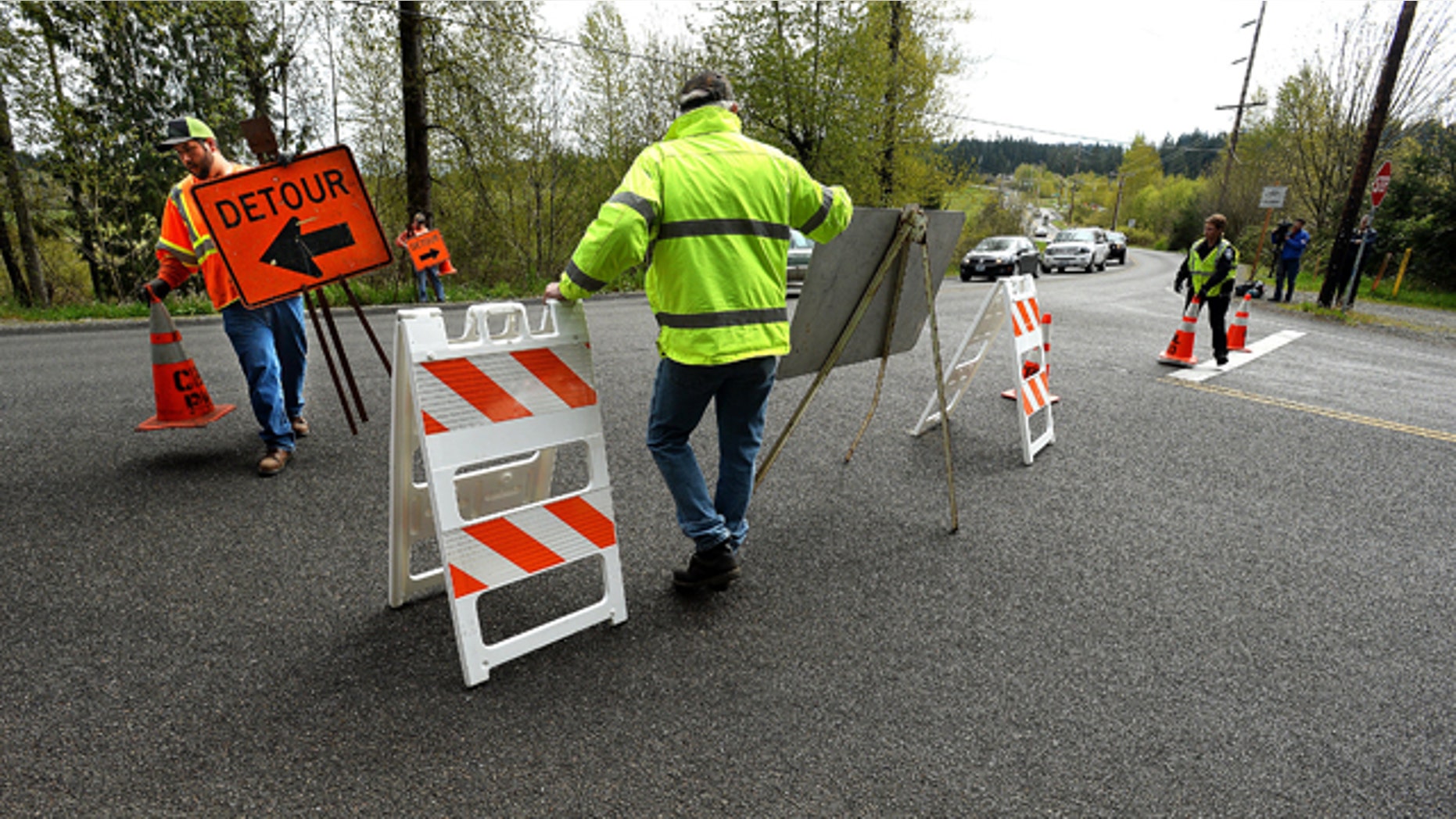 A concrete slab fell from a construction site on a Washington state highway overpass on Monday, crushing a vehicle driving underneath the span and killing a young couple and their baby boy, police said.
When workers were finally able to reach the damaged pickup, they found the victims — a man and a woman in their mid-20s and an infant, Bonney Lake police said Monday night.
Fire officials initially said at least one person had been killed.
The names of the couple and the roughly 6-month-old baby were not immediately released, but police spokesman Todd Green said the family lived in the Bonney Lake area, The News Tribune reported. Police traced the vehicle registration, but didn't expect the victims to be officially identified before Tuesday.
Construction crews were installing a sidewalk on the state Route 410 overpass in Bonney Lake, when a chunk of concrete fell to the roadway below around 10:30 a.m.
"We were just heading down the street ... and I could hear three snaps and down it went on top of the truck," witness Dawn Nelson, who was riding in a car behind the pickup, told KING-TV of Seattle. "There was nothing anyone could do. It was just surreal."
It was not immediately known what caused the "very heavy" concrete structure to fall. Bonney Lake police, the state Department of Transportation and representatives from contractor WHH Nisqually were investigating.
City spokesman Woody Edvalson said the material that fell was part of the original span, which was built in 1992 and has a sufficiency rating of 95.3 out of 100.
Bonney Lake is about 30 miles southeast of Seattle.
Construction for a $1.8 million city sidewalk project to improve pedestrian access along the highway started about a month ago. WHH Nisqually had crews on scene Monday.
"The project was to add a pedestrian walkway along that overpass on SR 410," Edvalson said. "This accident occurred as a result of that effort."
The project included rebuilding the north side of the bridge, adding a sewer line, widening SR 410 between the bridge and 192nd Avenue, and adding bases for future street lights, according to city documents.