Washington governor calls wildfires 'slow-motion disaster'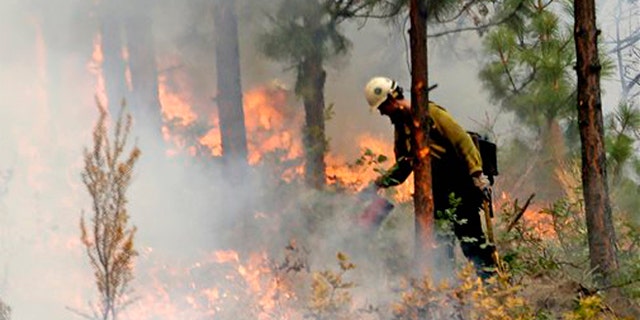 NEWYou can now listen to Fox News articles!
CHELAN, Wash. – Rising temperatures and increased winds Thursday could cause the largest wildfire in Washington state history to grow even bigger.
The National Weather Service issued a red-flag warning for the Okanogan Complex of fires, saying the weather conditions had the potential to spread the flames Thursday afternoon.
"The heat coming back on us early is going to be a problem," said Rick Isaacson, spokesman for the fire that grew to 450 square miles on Thursday.
The blazes killed three firefighters last week, and have burned at least 40 homes and 40 outbuildings.
Heavy smoke that had grounded aircraft this week lifted a bit Thursday morning and helicopters were able to drop water on the flames, Isaacson said. Aircraft were expected to drop retardant in the afternoon.
More than 1,150 square miles of Washington are on fire, nearly the size of Rhode Island, the state Department of Natural Resources said.
Gov. Jay Inslee visited central Washington on Thursday. He spoke in Chelan before travelling to meet firefighters on the lines.
"They know they're in danger and this danger is persistent," Inslee said.
Inslee said the fires were more spread out across the state than last year.
"This is not just a local fire, it's a statewide slow-motion disaster," he said.
The governor met with about 20 members of the National Guard fighting a fire near Lake Chelan. They worked to protect about a half-dozen homes.
"Trying to predict what the fire is going to do is one of the hardest things," guardsmen Casey Stockwell said.
Homeowner Jake Kneisley, 41, leaned against a car down a hill from his two-story home. Kneisley said he was up all night watching the fire near his home.
"I feel incredibly lucky these people are here for us," Kneisley said as firefighters worked nearby.
In other developments in the West, people in west-central Idaho near the town of Riggins have been told to evacuate due to a wildfire that expanded to 40 square miles Thursday. Nearly 600 firefighters are working to protect structures along U.S. Highway 95 and the Salmon River.
In Oregon, a large wildfire near John Day had increased in size, and firefighters were concerned about explosive growth Thursday afternoon. The fire has burned 134 square miles.