Wallenda family performers hurt in circus tightrope fall, 'tragic accident'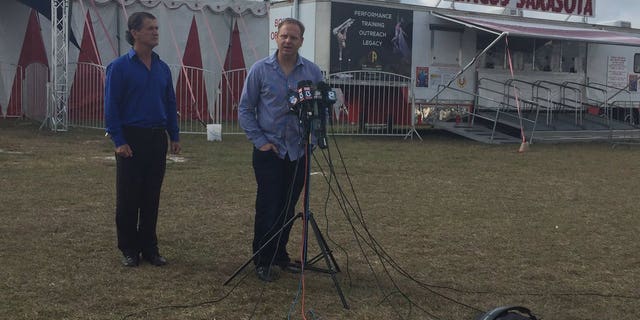 NEWYou can now listen to Fox News articles!
Some of the five circus performers injured after they plunged off a tightrope during practice in Florida were members of the world-famous Wallenda family, the daredevil Nik Wallenda confirmed on Thursday.
FORMER NY KNICKS STAR ARRESTED AFTER MADISON SQUARE GARDEN SCUFFLE
Still, he said it was a "miracle" they would all survive after the fall on Wednesday. He said he would perform Thursday night because "the show must go on."
Nik Wallenda told reporters that he and his cousin, Blake, managed to catch themselves on the wire, but his aunt and sister fell. Fox 13 identified them as Rietta and Lijana Wallenda.
MAN TRAPPED INSIDE GARBAGE TRUCK FOR OVER 10 MILES, RESCUERS SAY
The group plunged as much as 30 feet after "a couple" of performers lost their balance, according to Nick Wallenda. He said they were practicing for a Guinness World Record attempt, and called the fall a "tragic accident."
He also said the group did not train with a net because it provided a "false sense of security." In previous daredevil performances -- such as crossing a tightrope stretched across the Little Colorado River Gorge near the Grand Canyon -- Nik Wallenda did not use a safety net or tether.
Pedro Reis, founder and CEO of the Sarasota Circus Arts Conservatory, which puts on the show, said during a news conference Wednesday that nothing was wrong with the rigging.
Four of the injured suffered trauma, Sarasota Fire-Rescue spokesman Drew Winchester said.
Sarasota is a mecca for circus performers. Much of the reason there are so many circus performers in the area is due to the Ringling Bros and Barnum & Bailey Circus making its home in the Gulf Coast city during the winter, starting 90 years ago.
Nik Wallenda and his family live in Sarasota and often perform in and around the region. He and his troupe were the headliners of Circus Sarasota.
Patriarch Karl Wallenda died in a fall during a stunt in 1978 in Puerto Rico. Two other family members also died decades ago while performing.
In 2013, Nik Wallenda successfully crossed the Little Colorado River Gorge near the Grand Canyon, which was televised by the Discovery Channel.
In 2012, he was the first person to cross a tightrope over the brink of Niagara Falls. Other daredevils have crossed the water farther downstream but no one had walked a wire over the river since 1896. He did use a safety tether for that walk.
The Wallendas trace their roots to 1780 in Austria-Hungary, when their ancestors traveled as a band of acrobats, aerialists, jugglers, animal trainers and a bit later, trapeze artists.
The Associated Press contributed to this report.