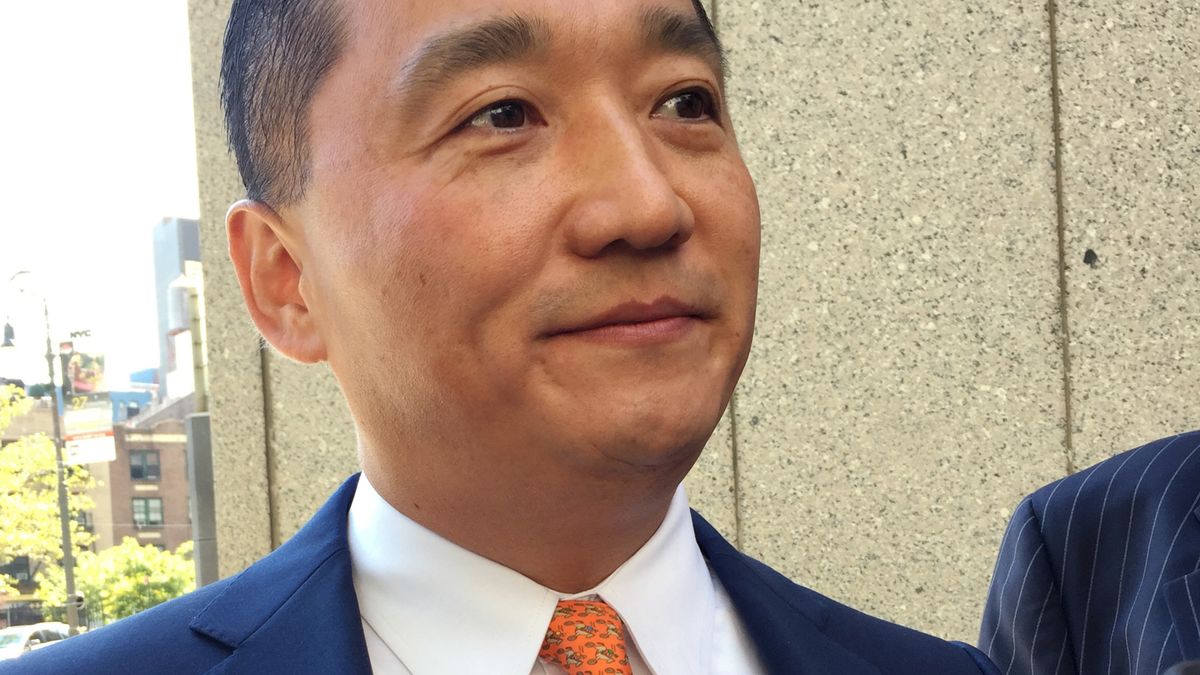 NEW YORK – A Wall Street executive shed his electronic ankle bracelet Wednesday and emerged smiling from a courthouse to say he's ready to restart his financial business a day after prosecutors dropped criminal charges against him.
Benjamin Wey, 45, had been wearing the bracelet as part of bail conditions put in place after he was charged two years ago with secretly building a financial interest in companies before manipulating their stock prices to score millions of dollars in illegal profits.
The judge who was going to preside over an October trial tossed out most of the evidence against him last month after concluding investigators used a search warrant to overreach, snatching things like children's school records, medical prescriptions, divorce records and decade-old clippings from the sports section of a college newspaper during raids on his Manhattan business and home.
Prosecutors dropped charges including securities and wire fraud Tuesday, citing the loss of evidence. A government spokesman declined to comment Wednesday.
"It's a happy day for me," Wey said, wearing an American flag pin. "I feel like this is a good day for America. ... As an American citizen, I feel very proud and honored to be exonerated and vindicated."
He said he planned to restart his business immediately, basing its direction on an analysis of the condition of securities markets.
"Starting from today, I'll be back on the saddle," he said, adding that he planned to contact the dozen or so employees who lost their jobs when he was forced out of business by the prosecution.
"My business was completely devastated. My employees were devastated. We'll just have to pick the pieces back up today," Wey said. "There was a lot of suffering for everybody."
Wey said the prosecution had damaged his business reputation.
He still faces a civil case brought by the Securities and Exchange Commission. His lawyer, David Siegal, promised to fight those charges with the "same level of vigor that we fought this."
He also has appealed a $5.6 million judgment against him in a sexual harassment case.
Facing questions from journalists, Wey defended personal attacks he's made against members of the media and his own efforts at journalism, including through the use of social media and articles he's written for an online magazine.
"The First Amendment is our sacred right. Everybody has their own right," he said.