Volunteers travel to US-Mexico border, donating goods to refugee shelter
EL PASO, Texas – In the midst of a national dialogue and heated debate surrounding families being separated at the border, one group of volunteers decided to drive right to the border to help out.
Sara Saucedo, a paralegal in Albuquerque, teamed up with Dr. Genevieve Garcia de Mueller, an assistant professor at the University of Texas Rio Grande Valley who's been involved with immigrant policy work for eight years. They started a donation drive in Albuquerque over two weeks ago, collecting children's clothing, shoes, diapers, hygiene items, and cash.
"My grandma always used to say that it only took one voice singing in the dark," Saucedo said. "I really feel that if you see an injustice and you have the time and the power and availability, you should do something about it."
On Monday morning, they drove the donated items, joined by volunteers in three other vehicles full of donations, to El Paso and arrived in the afternoon.
Saucedo and Garcia de Mueller's vehicle of goods was donated to the Annunciation House, a home for refugees recommended by a local immigration advocacy center.
Garcia de Mueller met Jorge Gomez, a board member for the Las Americas Immigrant Advocacy Center, through mutual friends on Twitter. Gomez suggested they donate the items to the Annunciation House.
The facility describes itself this way on its website: "Close to 100 years old, somewhat dilapidated, located on the fringe of El Paso's biggest barrio, and some ten blocks from the US/ Mexico border, this two-story, red brick building has been home to thousands of refugees and homeless poor."
"We looked at organizations in the area, who's doing the most good, and it's our understanding that the Annunciation House has direct access to the detention center itself... not a whole lot of organizations do," Saucedo said. "So, that was a real big driving factor—is they're actively handling kids."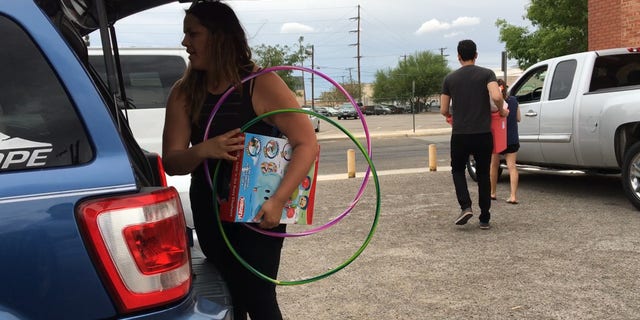 Garcia de Mueller said that through the donation drive she also was able to put a bag together for a woman released from a Phoenix detention center. She said the woman received the bag before a driver took her all the way to New York City to be reunited with her children, who were detained there.
"I'm not comfortable with how divisive the idea of not housing children in detention centers has become," Garcia de Mueller said. "I don't think that it needs to be a political issue, I think it needs to be a humanitarian issue."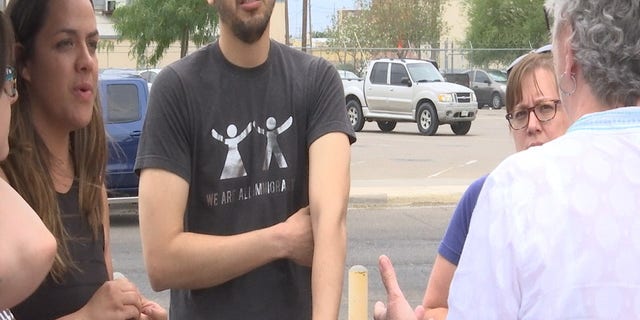 In total, the group donated 16 totes full of children's clothes, about two dozen boxes of diapers and pads, a few bags of shoes, hygiene items, and $700 to Las Americas Immigrant Advocacy Center.
"It's little things that we can do. That's why I really appreciate the work that Jen, Dr. Garcia's doing and I'm just happy to be here to help with that," Gomez said.