Volunteer Indiana firefighter battles fire at his own home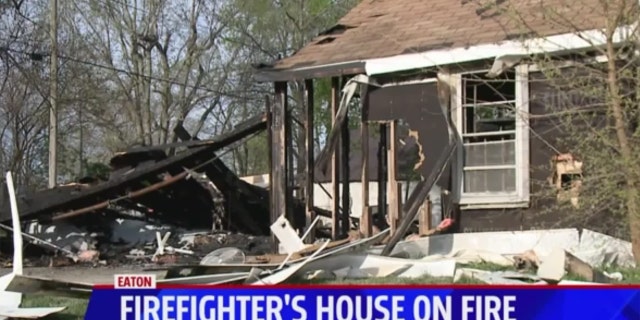 NEWYou can now listen to Fox News articles!
EATON, Ind. – A volunteer firefighter responded to the hardest call of his life. It was a call at his own home.
Monday morning just before 8 o'clock, Brett McBride had just gotten home from working third shift.
"I was in the room getting ready to go to sleep. I woke up and started smelling smoke and I looked out my bedroom window and started seeing smoke," said Brett McBride, an Eaton volunteer firefighter.
McBride called 911 and waited for his co-workers with the Eaton Fire Department to arrive.
"We're all like family and when something like that happens it's just like about losing our own house," said Chief Brian Copher.
Once responding firefighters showed up, McBride went to the fire station to get another truck and his gear and then helped put out the fire.
"I knew my house was on fire but my adrenaline was pumping that I wanted to get in there and help fight it," said McBride.
The fire started in the garage and spread to the house. Training had to overpower emotions.
"I was just trying to guide them through and where the fire was at and where it started, showing them where the rooms at and where the other rooms in the house were," said McBride.
McBride was the only one home at the time of the fire but his older brother, who is also an Eaton volunteer firefighter, lives there with his family.
"Tears, my wife and me, my kids, I mean that was their home, just all of us are trying to take it in," said Joseph Baucom, an Eaton volunteer firefighter.
Officials believe the cause of the fire was an electrical issue. The family lost nearly everything and the house wasn't insured.
"Money was tight and we were just trying to get it back and a little too late though," said Baucom.