Visitors can soon get a closer look inside the Lincoln Memorial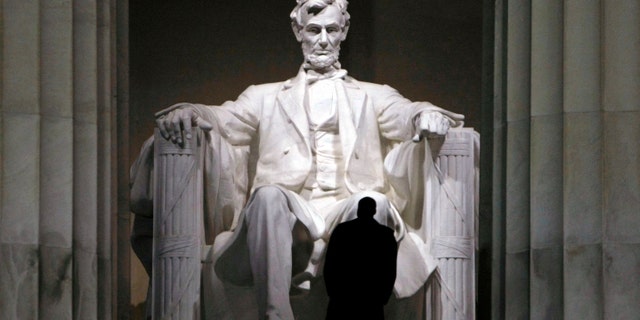 NEWYou can now listen to Fox News articles!
A new $18.5 million donation will provide for some much-needed improvements to the Lincoln Memorial in Washington, and soon give visitors a closer look into how the iconic marble structure was made, officials announced on Monday in honor of Presidents Day.
The memorial is built on pilings, and the National Park Service is going to explore ways for visitors to see the foundations that anchor the memorial to the bedrock. The unseen superstructure is marked with graffiti from the workers who built the memorial over a seven-year period, including caricatures of former President William Howard Taft and memorial architect Henry Bacon.
Washington investor and philanthropist David Rubenstein made the donation. He previously gave tens of millions of dollars to restore other historic sites in the nation's capital, including $7.5 million to fix and improve the Washington Monument after it suffered damage from a 2011 earthquake.
Workers at the Lincoln Memorial will also clean the site, fix masonry and add some 15,000 square feet of new exhibit and research space, officials said.
The memorial is structurally sound but does need some repair work, Park Service Director John Jarvis told reporters. "It's pretty stout, and I think really has held up quite well for a structure of its age," he added.
The memorial was completed in 1922, more than 50 years after President Abraham Lincoln was assassinated.
The Lincoln Memorial draws more 7 million visitors annually and is the most visited attraction on the National Mall. The statue of the seated president overlooks Washington's largest reflecting pool, across from the Washington Monument.
Rubenstein, a history buff, said he is particularly excited that his gift will provide the park service a better opportunity to tell Lincoln's story to visitors at the memorial, and generally increase awareness about his presidency.

His donation represents the start of the National Park Foundation's Centennial Campaign, marking 100 years after the Park Service was established.
The Associated Press contributed to this report.