Virginia winery suspends operations after 2 tons of grapes stolen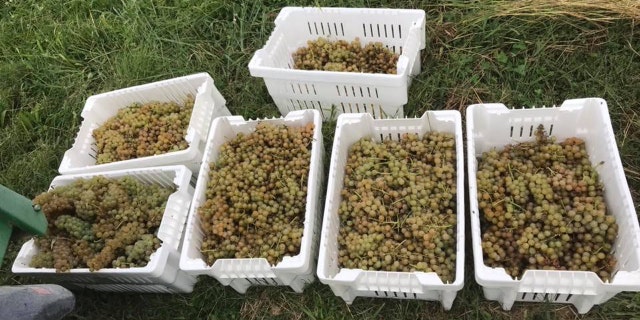 More than two tons of grapes worth up to $25,000 were stolen from a Virginia winery this week, forcing the business to close its operations indefinitely, reports said.
Firefly Hill Vineyards said it had only six crates -- less than 200 pounds of grapes -- remaining after the theft.
"We still can't wrap our heads around this. … We're just in the grieving process," co-owner Allison Dunkenberger told the Roanoke Times.
"We still can't wrap our heads around this. … We're just in the grieving process."
The grapes were stolen hours before she, her husband and friends and relatives were to begin trimming the fruit from the vines, she said.
Dunkenberger said the theft could have been carried out only by people familiar with the winery's operations, according to Fox 5 DC.
"I can handle losing a crop to Mother Nature, but to come in and take my crop in the middle of the night and steal what we've worked for for eight months, that's disheartening," co-owner David Dunkenberger told the Washington Post.
The vineyard wrote in a Facebook post that what "hurts the most is what they stole from my spirit and heart."
"The vineyard was a family experience. My daughters grew up in that vineyard. My family and friends helped me in that vineyard. Most importantly I spent time in that vineyard with my father," the post read.
The labor and supplies from the stolen crop amounted to about $50,000 that insurance does not cover, the reports said.
"You work your whole year for the harvest day and we were about to have that," David told the Post. "We were almost there, and somebody stole it"
After 12 growing seasons, they are "closed until further notice," the Facebook post said.
"Dad, I am so very sorry," the post said. "We will make one last blend together and toast to all of the blood, sweat and tears we shared together."