Virginia police search for missing college freshman
Virginia police searched Sunday for a university student missing since March 2, while the woman's father says he was arrested on charges unrelated to his daughter's disappearance after a lengthy interrogation.
Norfolk police haven't ruled out foul play in the disappearance of Anjelica (AJ) Hadsell, 18, who vanished nearly three weeks ago while home on spring break from Longwood University, where she is a freshman.
Her father, Wesley Hadsell, told WAVY-TV Saturday that he was arrested after being questioned by police for more than 15 hours. He said he was charged with obstructing justice, possession of ammunition after a felony and breaking and entering.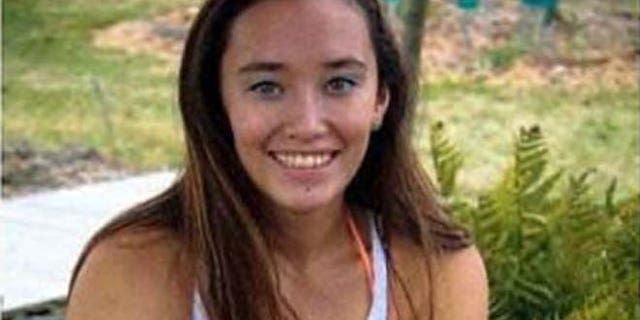 "They asked me where she was at," Hadsell, 36, told the station from the Norfolk County Jail. "I know, give them the answers. I can bring AJ home. Their words last night (Friday)."
The station asked Hadsell, who was wearing prison garb, if he could say with confidence he had nothing to do with his daughter's disappearance.
"Yes, sir," Hadsell said. "I can say with 100 percent confidence. I told them last night I don't know where she is. I don't know if anything happened to her or did not happen to her."
Hadsell is due in court on the charges against him Monday.
The arrest came as cops searched swampy woods in Chesapeake for the missing teen for more than 12 hours.
Norfolk police officer Sam Shenouda told the Virginian-Pilot police were searching the area after getting a new lead.
AJ's parents reported her missing the evening of March 3. Police said she was last seen on that date around 5:30 a.m. at her parents' Norfolk home.
WAVY said Hadsell believes his daughter was abducted. He told the station he broke into the home of the person he suspects took AJ to look for evidence in connection with the disappearance. The station said Hadsell was inside the home for 18 minutes and even punched the family dog out of anger.
"I found my daughter's jacket in his couch rolled up behind the cushion," Hadsell said. "I was just trying to make the evidence come to light. It's not like I had the jacket, I didn't plant the jacket, I didn't know anything about that. It was the fact of the overwhelming information that led me there."

The station said during a search of a hotel room Friday Hadesll said police found 72 rounds of 9-mm. ammunition. Hadsell is a convicted felon with a lengthy criminal record, the station reported.
"I made mistakes and, you know, I've been out of trouble for over 10 years, and I do have successful employment at a business and stuff like that and a good family," he said.
He said he is praying for his daughter's safe return.
"I want my daughter home," Hadsell told the station. "That's what I want and that's all I want. Anybody who wants to say something about that or get in the way of that, then I'm sorry. So what some ways are unorthodox. I didn't have anything to do with her disappearance. I don't know where she's at."