Virginia police chase stolen armored personnel carrier for more than 60 miles, soldier arrested
A solider stole an armored personnel carrier from a Virginia National Guard base and led authorities on more than a 60-mile chase while under the influence of drugs before being arrested in the state's capital city on Tuesday, officials said.
Virginia State Police said in a news release the incident began around 7:50 p.m., when the M577 armored personnel carrier was driven away from Fort Pickett in Nottoway County. The military vehicle, which moves on tracks similar to a tank, was not equipped with any weaponry and is the property of the Virginia National Guard.
Police identified the driver as 29-year-old Joshua Philip Yabut of Richmond, and said he was arrested for driving under the influence of drugs in addition to being charged with felony counts of eluding police and unauthorized use of a vehicle.
After being stolen from Fort Pickett, state police said the personnel carrier was driven east on Route 460 and then north on Interstate 95, hitting a maximum speed of about 40 mph as authorities pursued the vehicle.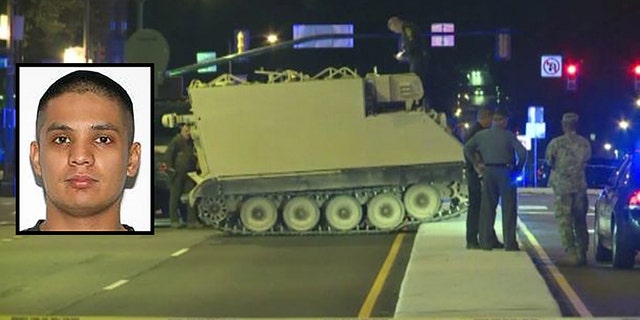 "We wanted to make sure we had the safety of the public first and foremost, and we wanted to make sure there wasn't going to be the possibility of civilians being injured in the process," State Police Sgt. Keeli Hill told WTVR.
State police began pursuiing the vehicle after receiving the initial report and traveled along with it from Nottoway County to Richmond. There were no crashes or injuries involving the vehicle during the pursuit, Virginia State Police spokesperson Corinne N. Geller said.
It appears that Yabut posted photos and video to Twitter while in the military vehicle right before the chase took place.
After the pursuit began, videos posted to social media show authorities chasing the vehicle through city streets.
A witness who saw part of the pursuit near Virginia Commonwealth University told WTVR he knew something was wrong when he heard the thunderous sound of the military vehicle.
"It just seemed like something out of a movie," Brian Wingert said. "I heard a large vehicle, it sounded like a tank, but it was moving pretty fast."
OREGON MAN HIGH ON LSD LEADS POLICE ON WILD CHASE THINKING HE'S IN 'GRAND THEFT AUTO,' OFFICIALS SAY
The chase ended when the driver abandoned the personnel carrier around 9:40 p.m. and was taken into custody near City Hall.
"It sounds like he pretty much just stopped on his own accord," Hill told the Richmond Times-Dispatch.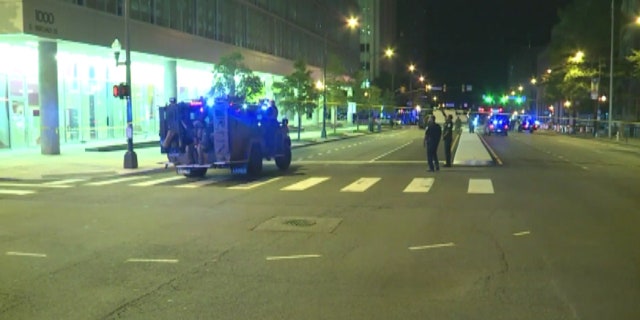 The Virginia National Guard said in a news release that Yabut is a first lieutenant assigned as the commander of the Petersburg-based Headquarters Company, 276th Engineer Battalion, and has more than 11 years of service. The 29-year-old was deployed to Afghanistan from 2008 to 2009 with the Illinois National Guard.
While the vehicle was not equipped with any weapons, Yabut did have his personal weapon with him, which had "no ammunition," according to the officials.
"We are extremely grateful that there were no injuries as a result of this incident, and we appreciate the great work of the Virginia State Police, Richmond Police Department and other law enforcement and first responders who safely brought this situation to a close," Maj. Gen. Timothy P. Williams, the Adjutant General of Virginia, said in a news release.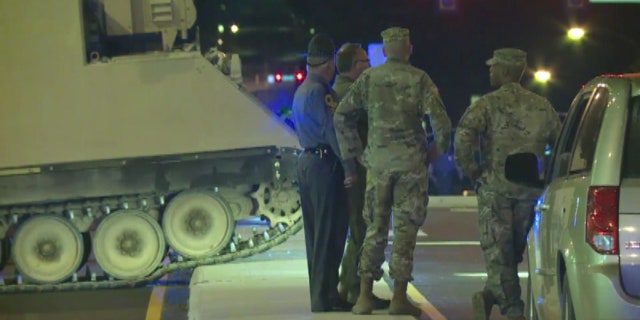 "We have initiated our own internal investigation, and we will determine appropriate actions once the investigation is complete."
Yabut is currently being held at the Richmond jail and is scheduled to be arraigned on Thursday.
The Associated Press contributed to this report.