Virginia Murder Suspect Hit Lacrosse Player's Head Repeatedly Against Wall, Affidavit Says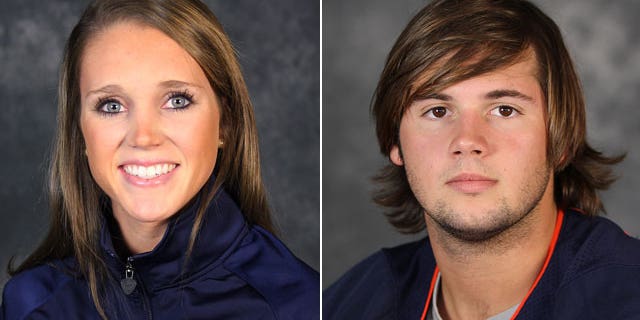 A Virginia lacrosse player suspected of killing a member of the women's team told police he shook her and hit her head repeatedly against a wall, according to a court document obtained by FoxNews.com.
An affidavit filed with a search warrant said police found Yeardley Love, 22, of Cockeysville, Md., face down in her bedroom with a pool of blood on her pillow, one eye swollen shut and a large bruise on her face which appeared to have been caused by "blunt force trauma."
George Huguely, 22, of Chevy Chase, Md., was charged with first-degree murder Monday in the death of Love. Both students were seniors and star lacrosse players at the University of Virginia.
Huguely, 6-foot-2 and 209 pounds, told police that he had an altercation with Love and had kicked in her door, according to the affidavit. The document also says the door leading to Love's bedroom had been forced open by what appeared to be a "fist punching through the door." Police observed hairs in the hole of the wall, the affidavit says, and Huguely had an injury on his right leg "consistent with kicking an object, such as a door."
Huguely told investigators he had communicated with Love by e-mail, and admitted to taking her computer from the apartment and disposing it, the document alleges.
The affidavit says two witnesses, Caitlin Whiteley and Phillippe Oudshoorn, described finding Love face-down on her pillow in her bedroom.
Police in Lexington, Va., about 70 miles from Charlottesville, said that in November 2008, Huguely was shocked with a stun gun by an officer there after resisting arrest for public intoxication. He pleaded guilty to two charges last year, was placed on six months of probation and given a 60-day sentence, which was suspended.
The arresting officer, R.L. Moss, said in a statement Tuesday that she felt it necessary to use the stun gun because Huguely became abusive and his size was no match for her.
She said in the statement that Huguely was "yelling obscenities and making threats."
Huguely's lawyer, Francis Lawrence, defended his client Tuesday, telling FoxNews.com in an e-mail statement that Love's death was "an accident with a tragic outcome."
"Until more information becomes available, it is our hope that no conclusions will be drawn or judgments made about George or his case," Lawrence said, adding that Huguely has withdrawn from the university. "We are confident that Ms. Love's death was not intended."
Charlottesville authorities arrested Huguely shortly after the young woman was found dead early Monday. Charlottesville, Va., Police Lt. Gary Pleasants told FoxNews.com that the two athletes once dated, but he declined to say what led police to Huguely.
Pleasants said Love's roommate called police around 2:15 a.m. to report that she may have had an alcohol overdose.
He said it was obvious upon arrival that Love had "visual injuries to her body." She was pronounced dead after attempts to revive her failed.
Charlottesville Police chief Timothy Longo said Huguely, who quickly became a focus of the investigation, was arrested inside his apartment and charged with first-degree murder. Longo said there was "probable cause" to charge Huguely, who is being held in the Albemarle-Charlottesville Joint Security Complex.
Longo added that there are no police records of abuse but said investigators planned to interview fellow players and friends about the nature of their relationship. Pleasants said authorities are investigating whether any death threats were made against Love.
An autopsy on Love was concluded in Richmond, and Longo said investigators passed along to him "pieces" of information, but he would not release details until he has the official report from the medical examiner. He could not say when the report was expected.
On Tuesday, friends and family called the death of the all-star college lacrosse player an "unspeakable loss," and they expressed shock over the allegations that she was killed by another student athlete.
"She was one of the most gentle, compassionate, kind and loving people I have ever known," said Drew Jordan, a friend of Love.
"I, along with the entire UVA lacrosse family, mourn her loss and will miss her in our lives forever," he said.
Mary Bartel, who coached Yeardley in lacrosse at Notre Dame Prep, told FoxNews.com that Love was a "great athlete and a pleasure to coach."
"Yeardley was fun-loving, happy-go-lucky," she said. "There was not a mean cell in her body."
Huguely appeared by videoconference Tuesday at a court hearing, wearing a gray-striped jail uniform. He did not speak during the proceeding between his lawyers and the judge and there was no discussion of bond for him.
Huguely, a midfielder, wasn't a starter but played in all 15 games this season. He had four goals and three assists. Love played defense and started in three games this season.
Some acquaintances of Huguely expressed disbelief that the lacrosse player, who they said was well-liked, could have committed murder.
"I never in a million years could expect that from George and I still find it hard to believe," said one college classmate, speaking to FoxNews.com on condition of anonymity. "I had multiple encounters and conversations with him and he never seemed capable of such a thing -- no matter what the circumstances."
"What happened to innocent until proven guilty?" he asked.
Both highly ranked teams are preparing for the national tournament later this month. Virginia's men's team was ranked No. 1 for most of the season and expects to host a first-round game in the tournament after winning the Atlantic Coast Conference championship last month. The women's team also was expected to get into the tournament.
Virginia athletic director Craig Littlepage said in a statement late Tuesday that the men's and women's teams "will represent the University of Virginia as they always have" if selected for the NCAA tournament, as expected, and play to honor the memory of Love.
Love was "a person who was described as an angel by teammates and friends," Littlepage said.
Love played varsity lacrosse and field hockey for four years at Notre Dame Preparatory School in Baltimore.
"Yeardley was an outstanding young lady -- joyous, spirited a wonderful person," said Sister Patricia McCarron, headmistress of the school. "I know we all enjoyed watching her on the lacrosse field and seeing her walk the hallways at NDP. We are proud to call Yeardley 'one of our girls."'
University president John Casteen said in a release on the university's website that Love's death "moves us to deep anguish for the loss of a student of uncommon talent and promise."
"That she appears now to have been murdered by another student compounds this sense of loss by suggesting that Yeardley died without comfort or consolation from those closest to her," Casteen said.
Casteen said Love did not deserve to die.
"She deserved the bright future she earned growing up, studying here, and developing her talents as a lacrosse player," he said. "She deserves to be remembered for her human goodness, her capacity for future greatness, and for the terrible way in which her young life has ended."
By coincidence, Huguely attended the same prep school as the Duke lacrosse players who were accused of sexually assaulting a woman at a team party. The charges later were dismissed.
In a 2006 interview with The Washington Post, Huguely defended his former high school teammates at Landon School. "In this country, you're supposed to be innocent until prove guilty," he told the paper.
FoxNews.com's Cristina Corbin, Meghan Baker and the Associated Press contributed to this report.