Virginia man tied up, left in burning apartment is rescued by neighbor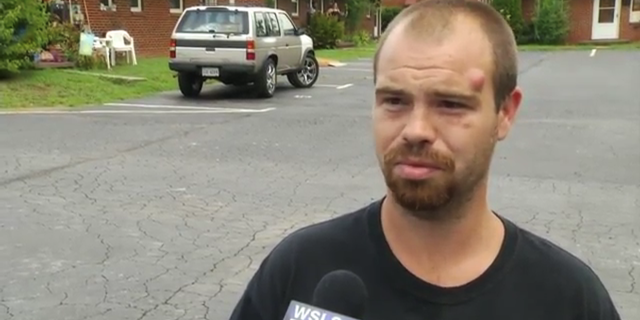 A Virginia man who was robbed, beaten, tied up and left to die in his burning apartment was rescued by his neighbor early Tuesday.
Clarence "Skip" Kakert, 70, said a person attacked him, tied his hands and feet and then pillaged through his apartment in Roanoke before setting it on fire, according to WSLS 10.
Omar Romance-Lomax Martin, 20, has been named as the suspect, police said. Martin is being sought for arson and malicious wounding charges.
MOTORCYCLIST DIES AFTER 130 MPH CHASE IN VIRGINIA
Kakert reportedly knew Martin, and Martin was asking Kakert for money before the incident occurred, police said. Chad Corby, a neighbor, said he called authorities when he saw Kakert yelling for help.
"He was on his front porch, screaming for help," Corby told WSLS10. "He was tied and bound, covered in blood. He told me somebody came in, asked to borrow some money. He told them he couldn't do it. They didn't like that answer, proceeded to beat the crap out of him, bound him, threw him in his tub, and caught his house on fire."
Corby ran to Kakert and cut him loose.
SCHOOL: AP AND HONORS CLASSES WILL BE DECIDED BY SKIN COLOR, NOT INTELLIGENCE
"Standing, bound, had a belt tied around his ankles," Corby said. "He had an oxygen cord and a phone cord tied around his wrists."
Corby said he is not sure if Kakert would have survived if somebody did not help.
"The fire was scary enough, but to see him covered in blood and the thought that someone would try to rob and kill him was unreal," he said.
Police said Kakert suffered from non-life-threatening injuries.