Virginia man runs with American flag in hand to honor son, others deployed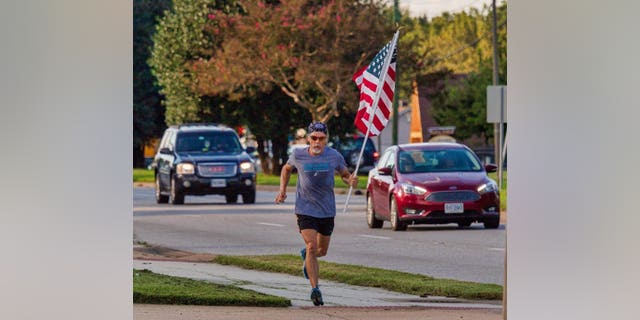 Wayne Parfitt loves to run.
That's why the 53-year-old Newport News, Virginia, resident decided in June to use his affection for the sport to honor his 22-year-old son, Joe, who is currently deployed overseas with the U.S. Army.
HOUSTON GIRL, 7, PROUDLY SINGS NATIONAL ANTHEM IN STANDS AT ASTROS GAME
With an American flag in hand, Parfitt takes to the streets once or twice a week — sometimes running six miles or more. On July 4, he took it even further — running with the flag for a symbolic 17.76 miles, he said.
Parfitt, who has been "running for many years," told Fox News he "felt it in [his] heart to run with the flag to honor my son, as well as all deployed." Parfitt declined to say where his son is deployed, citing security concerns.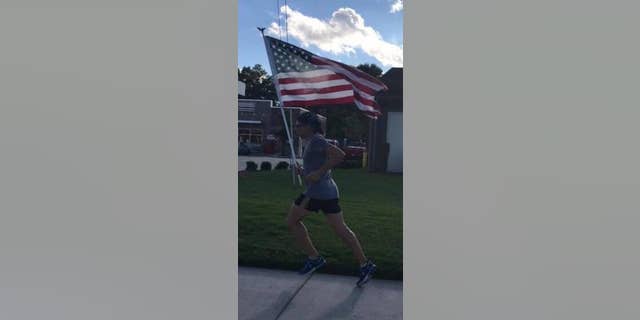 It's not surprising Parfitt gets noticed by drivers and pedestrians alike, many of whom honk their horns or give him a "thumbs up" as he passes by. Some even stop to salute the flag.
FIRST RESPONDERS REUNITE WITH BABY THEY HELPED DELIVER
"It is important to me because it changes the focus of my time. Not just a training run, but time to reflect, be proud and grateful for all our military," he said. " I also feel that many times we drive by a flag, perhaps outside a building or ballpark, never giving it thought. To see someone running, alone, with the flag, gets it noticed."
"I felt it in my heart to run with the flag to honor my son, as well as all deployed."
But Parfitt also runs because he "very much loves [his] country," he added, noting his favorite aspect of running with the flag is holding it "high and proud."