Virginia License Plate Pranksters Can't 'EAT' Kids but Can 'SLAP' Them?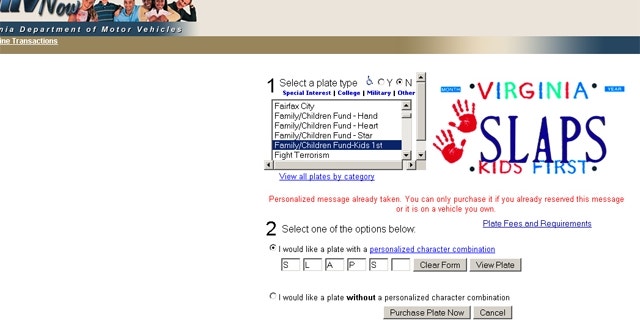 NEWYou can now listen to Fox News articles!
You can't "eat the kids" in Virginia, but you can "slap" them — at least that is the message the state seems to be sending through its license plate policy.
On Virginia's traditional plates, license numbers are placed in the middle of a border that reads "Virginia" at the top and "Kids First" at the bottom. Two years ago a Virginia man was told that his customized license plate "EAT THE" suggested cannibalism of children when the letters were positioned in the middle, and despite fighting against the decision, the Department of Motor Vehicles forced him to give up the plate.
But while the Virginia DMV pulled that plate, a photo has surfaced online suggesting the agency is currently allowing another one that reads, "SLAPS."
Yes, that's: "Virginia Slaps Kids First."
It's not clear who might have that license plate — or even whether the photo is real — but when asked why a Virginia motorist could "SLAP" but not "EAT," DMV spokeswoman Pam Goheen told FoxNews.com in an e-mail she didn't want to "speculate."
"It's not appropriate for one individual to try and guess what may or may not be an appropriate message for a license plate," Goheen said.
"All personalized plate messages brought to our attention as potentially objectionable are reviewed by a diverse committee of employees who use a set criteria to evaluate whether a plate should be recalled. We rely on individuals to notify the agency when they see a questionable plate message."
Teresa Huizar, Executive Director, National Children's Alliance said in a statement to FoxNews.com:
"The 47,571 reports of child abuse in Virginia in 2009 are hardly a laughing matter. Making a joke of child maltreatment is not just poor taste, but insults the memory of the more than 230 children who were abused to death in the state of Virginia over the last 10 years."
And some of the responsibility falls on the state for allowing this license plate to get approved in the first place, says Ben Tanzer, senior director of strategic communications at Prevent Child Abuse America, a national advocacy group.
"I don't think this is a first amendment issue. It's an issue of what's appropriate and how we address violence against children in our culture, he said.
"It's completely inappropriate and just shows the culture of violence in our society — it's just totally inappropriate."
Goheen also provided FoxNews.com with the Virginia Department of Motor Vehicles' Criteria for Objectionable Messages, which reads:
"If the combination of characters carries, in any way, a connotation that may be reasonably seen by a person viewing the plate as:
— Profane, obscene, or vulgar in nature
— Sexually explicit or graphic
— Excretory related
— Used to describe intimate body parts or genitals
— Used to describe drugs, drug culture, or drug use
— Used to condone or encourage violence
— Used to describe illegal activities or illegal substances
— Socially, racially, or ethnically offensive or disparaging"
It's unclear what will happen to the owner of the "SLAPS" license plate, but see Jalopnik's coverage for more on the tale of two vanity plates.