Virginia judge who let rapist walk free sentences man in sex assault case to no jail time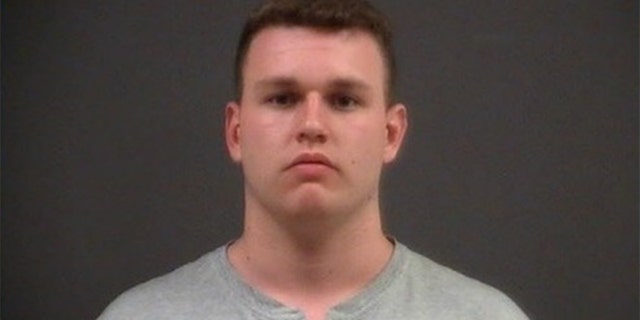 A Virginia man who allegedly tied up a 14-year-old girl and sexually assaulted her will serve no active jail time, a judge decided Wednesday.
Logan Michael Osborn, now 19, met the 14-year-old girl at a high school play in April 2017, according to prosecutors. After the play ended, the two took a walk, and he allegedly led her down a path away from people.
At the end of the path, Osborn, then 18, pushed the girl, tied a belt around her neck and hands and performed a sex act, prosecutors said. The girl testified that she cried during the assault, and claimed Osborn pushed her against the fence and on her knees at times.
In September 2017, Osborn pleaded guilty to having carnal knowledge of the girl. He later told the court he took responsibility for his "poor judgement," the Richmond Times-Dispatch reported.
Osborn's defense attorneys argued the interactions between the two had been consensual, pointing to text messages where she agreed to have fun with Osborn.
The age of consent in Virginia is 18.
Osborn was originally sentenced to 10 years in prison with eight years suspended. But in January, Chesterfield Circuit Judge T.J. Hauler stayed the execution of that two-year term, saying he wanted to review the case further, according to the Times-Dispatch.
APPEALS COURT REJECTS EX-STANFORD SWIMMER'S 'OUTERCOURSE' ARGUMENT
On Wednesday, Hauler decided to again stay the execution of the active prison term, citing discretionary state sentencing guidelines, according to the Times-Dispatch. His decision "is tantamount to suspending the entire 10-year prison term," the newspaper reported.
This isn't the first time Hauler has been in the spotlight for controversial decisions regarding someone accused of violent sexually-based crimes.
Hauler was criticized in 2016 after he rejected the state of Virginia's request to deny the release of Dana William, who was in prison for raping his ex-girlfriend, WTVR-TV reported. He had also been accused – but not charged – in multiple other rapes.
After his release, police said William strangled to death his ex-wife's father and abducted her mother in January 2016. Williams fatally shot himself as police were about to arrest him. Investigators later found the body of the mother off to the side of a road.
"I hope he knows what a horrible decision he made," Smith told WTVR about Hauler's decision to allow William to be released.
PENNSYLVANIA PEDIATRICIAN SEXUALLY ABUSED MORE THAN 2 DOZEN YOUNG PATIENTS, COPS SAY
In 2009, Virginia state Sen. Steven Martin criticized Hauler for having so many decisions overturned, WTVR reported.
"I had serious concerns and did some research and felt like it was best that he not continue on the bench," Martin said.
At Wednesday's hearing, Hauler said he "need[ed] to hear some positive things" about Osborn. James Trent, a foreman at an electrical company, commended Osborn's work ethic and performance, saying the "sky's the limit" with his future, according to the Times-Dispatch.
However, prosecutors noted this isn't the first time Osborn has been accused of sexual misconduct. In all, he's been accused seven times, including once when he was 12 years old and charged with grabbing the genitals of another student, the Times-Dispatch reported. Osborn's stepfather said he saw a child psychologist after that incident.
The 14-year-old's family said they were "disappointed that the defendant will not serve any active incarceration for the brutal attack," prosecutor Erin Barr said.
"They do not believe justice has been served and share concern for community safety and future potential victims," Barr said.
Osborn is required to register as a sex offender. His scholarship to the University of Mary Washington was also revoked after his conviction.