Virginia imam placed on leave after endorsing female genital mutilation
A Virginia imam has been placed on leave after advocating for the controversial practice of female genital mutilation.
Imam Shaker Elsayed of the Dar al-Hijrah Islamic Center in Falls Church, Virginia, made the controversial comments on a video, posted to the center's YouTube page, that has since been removed. It was first picked up by Middle East Research Media Institute (MEMRI), a non-profit that monitors and translates Iranian and Arab television channels, as well as sermons in the West.
"We thought it important to publish this sermon on the topic of FGM [female genital mutilation] because it has been in the news recently," MEMRI Executive Director Steven Salinsky told Fox News.
MOSQUE CONDEMNS IMAM'S COMMENTS ON GENITAL MUTILATION
"(Circumcision is) a sunna [traditional Islamic practice] for the boys, and the honorable thing to do – if needed – for the girls. This is something that a Muslim gynecologist can tell you if you need to or not," Imam Elsayed said in the video.
He went on to describe a woman who performed the practice, saying "she is expected to cut only the tip of the sexual sensitive part in the girl, so that she is not hyper-sexually active. This is the purpose."
He then seemed to suggest the practice is so controversial because people don't understand it.
"Of course, if that lady or surgeon cut more than the tip, it causes serious harm in the sexual life of the child when she grows up, and this is why the West thinks of (it) as sexual mutilation," he said.
After talking about unqualified people performing the practice, damaging "the sexual sensuality of the woman" as she grows older, he says this "mistake in practice" is used to "prohibit the tradition."
He said that in societies that prohibit the practice, "hyper-sexuality" takes over.
"And a woman is not satisfied with one person, or two, or three," he said. "This is, God forbid, now happening even in Muslim societies where they prohibit circumcision."
The World Health Organization (WHO) describes female genital mutilation as "procedures that intentionally alter or cause injury to the female genital organs for non-medical reasons." It said the procedure can cause many problems, including severe bleeding and infection as well as later complications during child birth and can even be fatal and "has no health benefits for girls and women."
FEMALE GENITAL MUTILATION CASE INCLUDES VIDEO OF GIRLS BEING TAKEN INTO A MEDICAL FACILITY
"Although the practice, which is sometimes also called female circumcision, has no basis in the Koran or in the Bible, experts say it is perpetuated in large part because of false claims about religious obligations and health benefits, societal pressures and the desire to suppress female sexuality," according to the Washington Post
Prominent members of the Muslim community have denounced Elsayed's comments, and some are calling for his ousting.
Fox News reached out to the Dar al-Hijrah Islamic Center via e-mail but the center has not responded. On Monday, board members released a statement saying they did not condone or support female genital mutilation.
"The reference to "hyper-sexuality" is offensive and it is unequivocally rejected," the statement said. "The Board of Directors is particularly disturbed by such comments."
They added that female genital mutilation is "prohibited in Islam as well as the laws of the land."
It also included a statement by Elsayed that sought to clarify his position.
"Female Genital Mutilation (FGM) is considered by Islam to be a very harmful to women's sexual health. And in Islam anything harmful is prohibited" which is why, he said, he "referred the audience to their OBGYN to inform them why it is illegal and harmful."
But he did apologize for his choice of words.
"Regarding the statement I made on hyper-sexuality, I admit that I should have avoided that," he said. "I hereby take it back. And I do apologize to all those who are offended by it."
On Wednesday, the Board of Directors took action, putting out a second statement saying they "agreed with Imam Shaker Elsayed that he will be placed on administrative leave until further notice."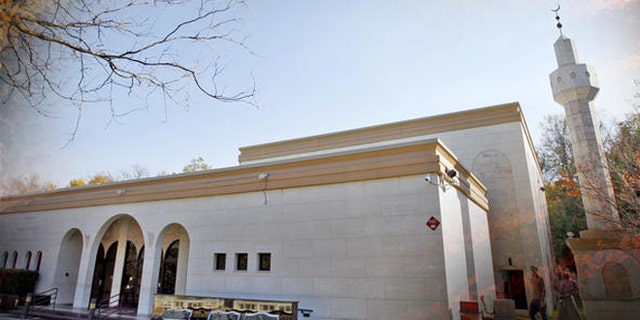 According to the Post, Dar al-Hijrah, which boasts about 3,000 regular visitors, "has sought for years to scrub its image, after it became the focus of public scrutiny and FBI investigations following 9-11." Two 9-11 hijackers and Fort Hood shooter Maj. Nidal M. Hasan all worshiped there at some point.