Viral photo said to show alleged vandals at Oregon's Tumalo Falls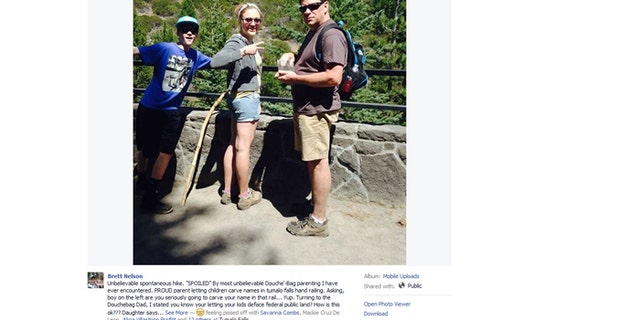 An Oregon hiker took a photo that went viral of three people who he said were carving their names into a railing at Tumalo Falls on Saturday inside Deschutes National Forest.
The Oregonian newspaper reported that Brett Nelson, the hiker who described himself as a person who enjoys "exploring and finding things that have never been touched," took the picture after the threesome refused to stop carving their names into the rail.
Nelson took to Facebook, according to the report, and posted the picture with the caption, "PROUD parent letting children carve names in Tumalo Falls hand railing."
The identities of those in the photo or their relationship are unclear. The adult told Nelson he is from California. When Nelson, apparently showing his frustration, asked him for his car's license plate number so he could carve his name in the hood, the man responded, "Go for it, it's a rental car."
The photo has been shared 35,000 times. The Forest Service is investigating and thanked Nelson for the picture. The agency told the paper that vandalism is common in the park and, with limited resources, officials need to be selective in the cases they investigate.