Vietnam veteran sews, and sows hope among the needy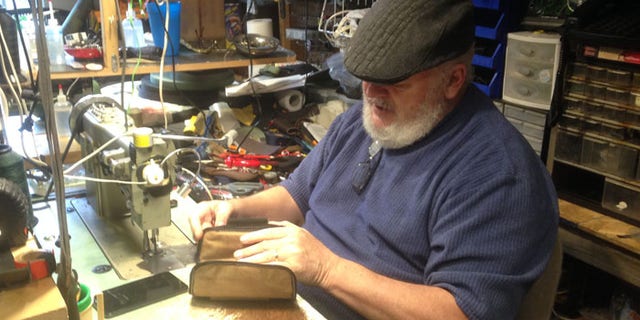 While hiding in the bed of a U.S. Army pickup truck as it traveled through one of the most dangerous passes in Vietnam in 1970, Randall Jacobsen had one thing on his mind.
"Okay, I've got a lot of stuff on here but I don't think it's going to slow down an AK-47," Jacobsen, now 67, thought to himself under a pile of duffel bags.
The destination was called An-Khê, where the Army had battalion headquarters. The path to get to there was subject to frequent ambushes by the North Vietnam Army.
Once the truck, and the three other men who were on it, reached An-Khê the soldiers were told to do a layout inspection in order to assess any damages or injuries.
"I feel that God brought me here, literally, I think he directed my steps."
It was then that Jacobsen found an AK-47 round in the bottom of the sole of his boot.
"I took that as a sign that I was being watched over," Jacobsen said, as he recalls the attack that could have left him severely wounded. "I felt blessed to be alive."
That same feeling of being watched over by a higher power has helped to keep Jacobsen on the straight and narrow throughout everything that life has thrown his way.
Today, the retired Jacobsen operates Sow-N-Sews out of a small shed behind his home in Muncie, Indiana, with his high school sweetheart and wife, Joyce, by his side.
He makes bags, holsters, pouches and other custom pieces.
"I started making the things that I designed while I was in the service," he said. "It stems from my faith in general. The first Sow is s-o-w, like a farmer sows seed, you sow the seed of the word of God."
Jacobsen is an ordained minister who also holds Bible studies in his workspace. As a matter of fact, he'll hold studies and counseling sessions just about anywhere.
"I believe that ministry is wherever you're found. Whenever you're gathered in the name of Jesus Christ, two or more people, the holy spirit is there with you."
Jacobsen ministers to veterans, couples, and anyone who happens to be in need.
Those he ministers to today know him by a different nickname than the one he received in the Army: "Chappie J."
The combination of spirituality and a pro-business mentality is something that Jacobsen has experimented with his entire life.
"Through my time in the service, I had always been entrepreneurial-oriented," Jacobsen said.
When he was first assigned to Fort Eustis, VA, Jacobsen picked up a different skill that he kept going during his one-year tour of Vietnam.
He would charge one dollar a haircut, and send some of the money he made back home to Joyce and their newborn son. In Vietnam, he would do about 30 heads a day one or two days a month.
"Of course, over there, you didn't have a lot of hair to cut, no one was worried about fashion," Jacobsen recollected.
Three years ago, Jacobsen was diagnosed with stomach cancer at the age of 64. Surgery prevented the spread of the cancer and he has been in remission ever since.
"You read about the trials and tribulations that all the apostles went through, I was still provided for, I was still safe," he said.
His journey took him through Vietnam, Germany, and five different domestic Army bases before he finally arrived in Muncie where he served as an ROTC instructor.
From that close call in Vietnam to surviving cancer and running a business, Jacobsen believes he was meant to be a spiritual guide for the lives of others.
"I feel that God brought me here, literally, I think he directed my steps," he said. "He prepared me to be able to speak into someone else's life through the eyes of what I had experienced."
Jacobsen, who has since sold his business, continues to do sewing projects in his modest workspace at the request of locals. But his real work doesn't involve a needle and thread, or Velcro for that matter.
"I think God sends people to me, quite literally," said Jacobsen. "Faith has always been a very strong part of my life."