Vietnam vet, 69, receives second Purple Heart 46 years later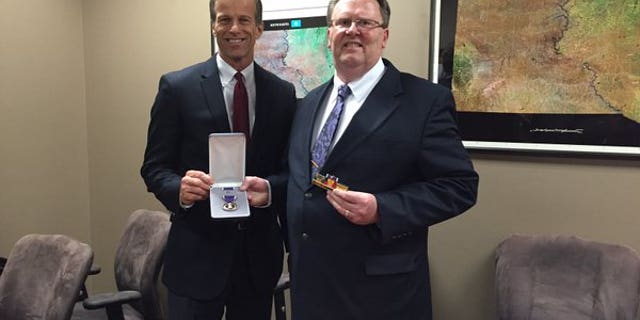 Some 46 years after a Vietnam War veteran had his first Purple Heart pinned to his fatigues, he received his second in an emotional ceremony earlier this month.
The Argus Leader reports military officials somehow lost the records of 69-year-old Navy veteran Jake Aning's brave actions. But he said he had lasting proof: a piece of shrapnel still in his wrist.
Aning, originally from Iowa, had patrolled the Mekong Delta as a gunner on a river boat. He said that as he descended a ladder to use the bathroom, he spotted a man with a rocket launcher aimed at the American crew.
So he said he motioned to the attacker, who aimed at him instead. Aning jumped to safety, but the explosion knocked him unconscious.
"The rocket came in about exactly where I was standing," he told the newspaper. He'd received his first Purple Heart after a separate attack on his boat.
Aning said he returned home with post-traumatic stress disorder, which hurt his job prospects. When he finally received his second Purple Heart in Sen. John Thune's Sioux Falls, S.D. office, he was in tears.
Aning says he served his country and he did it with pride. He says if his country would ask him again, he would go.
Aning became overcome by emotion when Thune presented him with the Purple Heart and a Navy Achievement Medal with a combat "V." Thune thanked Aning and read a record of service, including 181 combat patrols and eight occasions of engaging the enemy.
Aning grew up on a farm in Lyon County, Iowa, and joined the Navy Reserve to work in payroll.
The Associated Press contributed to this report.