Video shows Chicago student yelling 'f--k you all!' after being shot by cops
A disturbing video has emerged where a University of Chicago student can be heard screaming in pain and repeatedly yelling "f—k you all!" after being shot in the shoulder by one of the school's officers for refusing to drop a metal pipe he was wielding.
Charles Thomas, 21, has been charged with felony aggravated assault of a police officer and two counts each of felony and misdemeanor criminal damage of property stemming from the Tuesday incident, Chicago police said.
"What the f—k do you want?" Thomas, in footage of the confrontation released by the university, is heard yelling at one of its officers.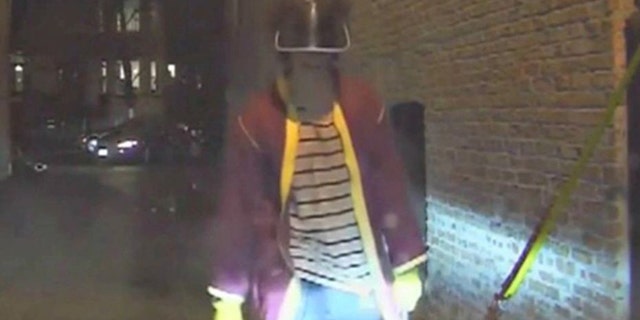 "Sir, I'm going to need you to drop that weapon. Drop that weapon," the officer is heard saying in another video of the shooting. "Don't come at me! Don't come at me!"
University officials said in an email to the Chicago Tribune that three university officers had responded to a report of a burglary just before 10:15 p.m. in the city's Hyde Park neighborhood.
The officers reportedly saw the male student breaking car and apartment windows with the pipe. The student – wearing gloves and a visor over his face -- charged at police when they ordered him to drop the pipe, the email said.
After the sound of a gunshot, Thomas was heard screaming in agony and then repeatedly yelling "f—k you all!" while an officer instructs him to put his hands behind his back.
Thomas was taken into a hospital in serious condition but was stable as of Thursday, said officials who spoke to the Chicago Sun-Times. His parents have been notified.
A university spokeswoman told the Chicago Tribune that it was the first officer-involved shooting in the agency's 40-year history.
The officer has been placed on administrative leave pending the outcome of an investigation by the Chicago police and the university's Department of Safety and Security.
The officer fired once, the university said, adding that the officer has been on the school's force for two years, and has undergone 40 hours of crisis intervention training and eight hours of mental health first aid training, the Tribune reported.
On Wednesday, University President Robert J. Zimmer and Provost Daniel Diermeier sent a message to the university community regarding the shooting. It read, in part: "This is a difficult incident for our community, and our concern is with all of the individuals involved and their families."
The message confirmed that the suspect was a student at the university, and pledged that more information would be released about the incident as it becomes available.
The Associated Press contributed to this report.