Video of caregiver hitting woman, 94, in her care results in arrest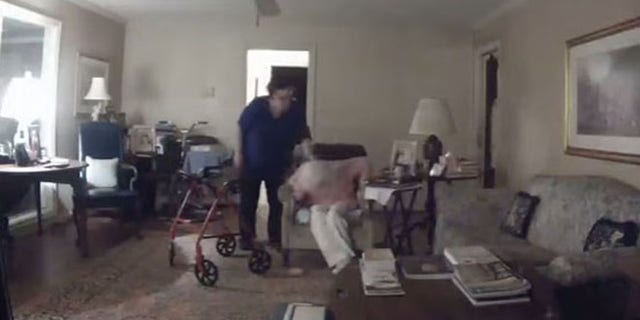 Disturbing video that went viral this week appears to show a home health care aide abusing a frail 94-year-old woman in her care near Houston.
Police in Memorial Village released the video and announced they were looking for the aide who they said was on the lam, Fox 26 Houston reports.
GRAPHIC VIDEO:
Cops said Brenda Floyd, 59, was wanted for assault. They arrested her Friday in Houston, according to the station.
Her alleged victim, Dorothy Bratten, has Alzheimer's, the station reported.
Investigators told The Houston Chronicle the video shows Floyd hitting Bratten on the back of the head, cursing her, calling her names, and berating her for feeding the dog.
"I told you to stop feeding that dog that human food," Floyd is heard saying to Bratten who is sitting in a living room chair.
The video appears to show Bratten being hit several more times as she gets up and leaves the room with the aid of a walker, the paper reported.
Her son noticed bruises on her body and installed a camera, the paper reported.
Floyd is accused of attacking Bratten on New Year's Day, which is the day after the camera was installed, according to KHOU-TV.
She had worked for Bratten for about three years, the station reported.