Vicious Christmas Eve pit bull attack leaves Kentucky woman dead, husband injured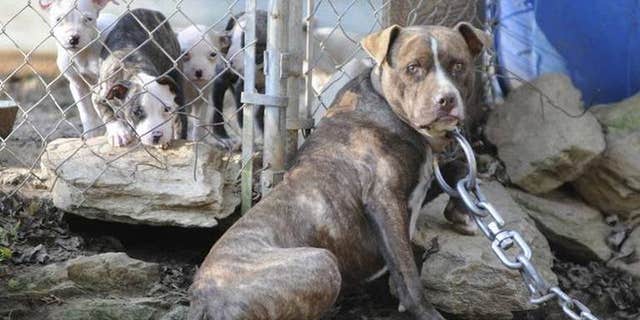 A woman was killed and her husband seriously injured after a vicious mauling by two pit bulls on Christmas Eve in a Kentucky coal town.
Two Bell County deputies responded to the scene Sunday morning in Arjay and discovered the woman and her husband "had been savagely attacked" by two pit bulls, the sheriff's department said in a statement. Investigators said the husband managed to shoot the dogs afterwards, killing one of them.
The Bell County Coroner's Office said the woman who was killed was Lorraine Brock Saylor, 66.
WYMT-TV identified the husband as Johnny Saylor.
The sheriff's department said a caller had reported his brother and sister-in-law were attacked by two of their neighbor's dogs, WLEX-TV reported.
DEPUTIES WATCHED DOGS 'EATING RIB CAGE' OF VIRGINIA WOMAN, 22, DURING MAULING, SHERIFF SAYS
Lorraine Saylor was declared dead at the scene. Her husband was hospitalized.
"The husband suffered wounds as well, but was able to shoot both dogs, killing one while the other ran off," the department said.
The sheriff urged residents to be on the lookout for the injured dog.
"Under no circumstances are you to engage this dangerous animal," the department said.