Veterans sue city in New York that ordered 'Don't Tread on Me' down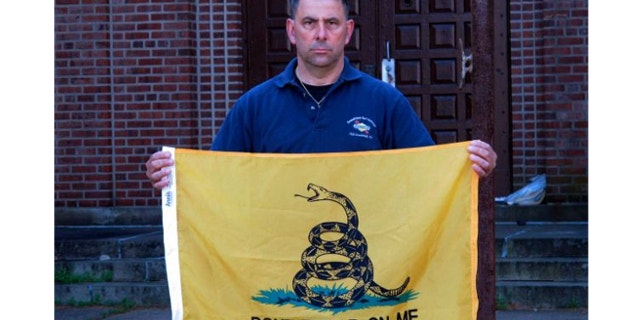 NEWYou can now listen to Fox News articles!
A veterans group alleges in a federal lawsuit that officials violated its free-speech rights when they banned a "Don't Tread on Me" flag from a city-owned armory.
The lawsuit filed last week in federal court says New Rochelle's action, in addition to being unconstitutional, was "unreasonable, arbitrary and capricious" and betrayed a lack of appreciation of history.
The City Council had ordered the flag down in March, citing complaints that the yellow banner with a coiled rattlesnake was making a political statement. The flag has been used as an unofficial symbol of the tea party since at least 2008 and is often seen at party rallies, tax protests and gun rights rallies.
But the lawsuit, filed by the United Veterans Memorial and Patriotic Association, offers a long history of the flag, which has been used by the U.S. military since 1776. And it says none of the veterans who raised the flag in March are tea party members.
It says that "contrary to defendants' unfounded, subjective (and incorrect) belief," hoisting the Gadsden flag was not meant to support the tea party. It was meant "to honor the veterans who have served and died for our country under the rattlesnake image and the words 'Don't Tread on Me' since the American Revolution," the lawsuit says.
City officials did not immediately return phone calls seeking comment. The city manager said in April it is up to the city to determine which flags fly on city-owned property.
The lawsuit names the mayor, city manager and four City Council members. It requests an injunction and "nominal and compensatory damages."
Ron Tocci, a former New York assemblyman and a retired Veterans Affairs commissioner told The Journal News it was incorrect for city officials to associate the flag with tea party groups.
"It's a slap in the face, an insult to any veteran that they would try to identify that flag with anything other than what it should be -- honoring the service of our people," Tocci told the newspaper.
Peter Parente, president of the veterans group, referred calls to attorney William Baaki of the Thomas More Law Center, a conservative legal defense group in Ann Arbor, Mich. Baaki did not immediately return a call.