Veteran's 'Combat Flip Flops' brings opportunity and education to Afghanistan
NEWYou can now listen to Fox News articles!
Matthew Griffin put away his Army fatigues after his tours in Afghanistan and Iraq, but not his desire to serve. He returned to Afghanistan with the hopes of making the American Dream a possibility for everyone in the country, especially the women.
He was, as Mark Cuban put it, "exporting the American Dream."
How did Griffin do it? Through flip-flops.
Griffin is the co-founder and CEO of Combat Flip Flips, a shoe company that gives back with each purchase.
Griffin started the company with fellow veteran, Donald Lee, and Griffin's brother-in-law, Andy Sewrey.
They teamed up with Aid Afghanistan for Education, a charity that provides secondary education for Afghan girls.
"For every product sold, we donate funds to put a girl in Aid Afghanistan for Education in school for one day," Griffin explained to Fox News.
The idea to fund education for Afghan women was made with fighting terror in mind. Their belief is simple: educated women don't allow their sons to join jihadist movements.
Griffin says their business, from its genesis to where it is now, has always aimed at providing opportunities to people from impoverished nations. This business model was molded by both his years in and out of service.
The fourth generation service member's tale started when he headed off to war in Afghanistan after the horrific events of Sept. 11, 2001. He was expecting an all-out fight with extremists, but was met instead with families in abject poverty.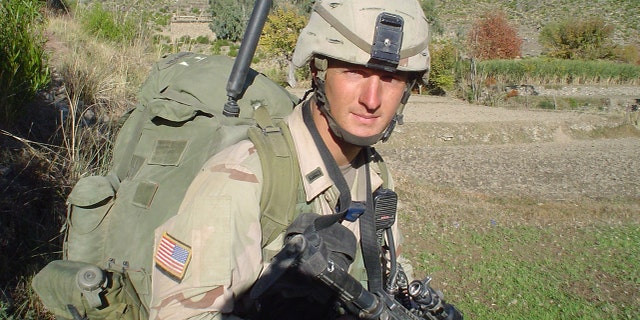 Griffin learned that people take jobs as fighters because they are looking for a way to support their families. They turn to a life of extremism because of the severe lack of opportunities and employment.
"These kids are going to be an endless supply of fighters against the United States and really what we need to be doing is finding an alternative for them for employment other than fighting against the U.S.," Griffin said.
When his service ended, he returned to Afghanistan in plainclothes, working for Medical International. He found the areas that were the most secure were the ones with entrepreneurs and flourishing small businesses.
One of these small businesses was a boot factory that employed 300 Afghans. Each of the employees were supporting 5 to 13 family members. The social impact of the factory was huge. Unfortunately, the plan was to close the factory when the war ended. The moment Griffin learned the heartbreaking news from the factory manager, he says he looked down to his left and saw a combat boot sole with a flip flop thong through it.
"It was ugly and it was cool and I thought, 'man, Americans would buy this,'" Griffin said. That was how Combat Flip Flips started.
The attempt to keep the factory open was no easy mission and ultimately failed. Griffin and Sewrey say they were victims of bait and switch by their material provider and were forced to move to a factory in Kabul. This factory lost their boot contract and could no longer cover the overhead. This left Griffin and Sewrey with material to make the boots but no factory for production. Unwilling to give up, they moved production to Griffin's garage in Washington state.
Knowing this was only a temporary fix, they searched for a new country to produce their boots -- Colombia.
They found similarities between Colombia and Afghanistan. Both are war-torn nations fighting a narco-finance insurgency. Griffin and Sewrey say moving Combat Flip Flops to Colombia proved to be a help to the nation.
"The U.S. backed with a free trade agreement to give those small businesses a competitive advantage, and it's working. We are seeing the end of the FARC rebellion in Colombia after 50-something years and it's mainly because of business and trade," said Griffin.
Griffin and Sewrey's story was featured on ABC's "Shark Tank," where billionaire Mark Cuban offered to invest in the company.