Vegas Cops Nab 208 lbs. of Meth, Arrest Immigrants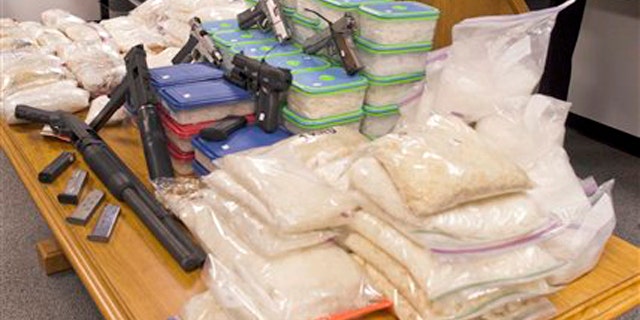 Ten illegal immigrants from Mexico were arrested on drug trafficking charges after federal and Las Vegas law enforcement officials seized 212 pounds of drugs worth $5.7 million in the largest methamphetamine bust in Nevada history, authorities announced Thursday.
Police also seized $280,000 in cash, six guns and nine vehicles used for drug trafficking after searching nine residential properties in Las Vegas and Henderson on Tuesday.
Law enforcement officials heralded the record bust as a significant blow to Las Vegas' illegal underground that would be felt by every player, including drug bosses, small-time dealers and users hoping to score on the street. The raid yielded four pounds of heroin and 208 pounds of methamphetamine in varying stages of processing, from its liquid form to the crystal-like pieces sold on the street in small quantities for consumption.
"There will be a noticeable difference in the amount of drugs on our streets," said Las Vegas police spokesman Jacinto Rivera. In the previous record bust, Las Vegas officials seized 70 pounds of methamphetamine, he said.
In all, 11 men and women were arrested in this week's raid. They have not been identified.
It's unclear how long the illegal immigrants have been in the United States or how they entered the country. The other person who was arrested was also Hispanic. It was unknown whether he or she was a U.S. citizen, but police said the person is a legal resident.
The investigation began in January and police officials said they are still trying to determine whether the operation had ties to Mexico's brutal drug cartels. The drugs were manufactured in Mexico and smuggled across the border into the United States.
Officers from Las Vegas, North Las Vegas and Boulder City joined officials from the federal Drug Enforcement Administration and the Nevada Highway Patrol in the raid. No law enforcement officials were injured during the searches. Law enforcement officials said they could not reveal what events led to the arrests because the investigation is ongoing.
"You are finding more and more that these drug trafficking organizations are pushing inland," said Paul Rozario, an assistant special agent for the DEA.
All 11 will likely face additional charges other than drug trafficking. If they are ultimately found guilty, the illegal immigrants likely will serve their time in the United States before they are deported, Rivera said.
The seized vehicles had been modified to include several secret compartments to store the drugs. Law enforcement officials said they had not linked the seized guns to any reported violent crimes.
Methamphetamine is the most popular street drug after marijuana, Rozario said. It can be taken orally, snorted, smoked and injected.
"Meth is a huge problem here, as it is across the country," Rozario said.