Vatican mum on details of Pope Francis meeting with Kim Davis
NEWYou can now listen to Fox News articles!
A Vatican spokesman said Wednesday morning that he does not deny that Pope Francis met with a Kentucky county clerk who refused to issue same-sex marriage licenses.
"I do not deny that the meeting took place, but I have no comment to add," Vatican spokesman Federico Lombardi said in a statement reported by Reuters.
Earlier Wednesday, Lombardi would not confirm or deny a meeting took place with Rowan County Clerk Kim Davis, who was briefly jailed earlier this month for her refusal to issue marriage licenses.
"I do not deny that the meeting took place, but I have no comment to add"
Davis' attorney, Mat Staver of the Liberty Counsel, said in a statement Tuesday night that Pope Francis met Davis and her husband on Sept. 24 at the Apostolic Nunciature in Washington, following his address to a joint session of Congress.
The statement did not say who initiated the meeting or how it came to be, though Staver said unnamed Vatican officials inquired about Davis' situation while she was in jail. Davis was in Washington because she was due to receive an award at the Values Voter Summit.
Francis told Davis "Thank you for your courage" and "stay strong" in English, according to Staver. The pope then reportedly held out his hands and asked Davis to pray for him. Davis allegedly responded, "I will. Please pray for me," and Francis said that he would.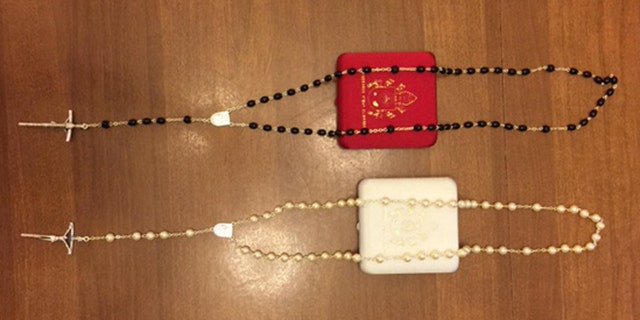 The statement said the pope gave the couple two rosaries that he had personally blessed, pictures of which were released by Liberty Counsel on Wednesday. Staver said Kim and Joe Davis would give the rosaries to her parents, both of whom are Catholic.
Davis has repeatedly refused to grant or authorize marriage licenses for same-sex couples despite the Supreme Court's ruling making same-sex marriage legal nationwide. David has said same-sex marriages cannot be reconciled with her Christian faith.
While Francis didn't speak specifically about Davis during his time in the U.S., however, he did address her case during a press conference held aboard the papal plane while returning to Rome from Philadelphia.
Francis said he didn't know the case in detail, but he upheld conscientious objection as a human right.
"It is a right," Francis said. "And if a person does not allow others to be a conscientious objector, he denies a right."
The Associated Press contributed to this report.