Vandal changes iconic LA sign to 'Hollyweed'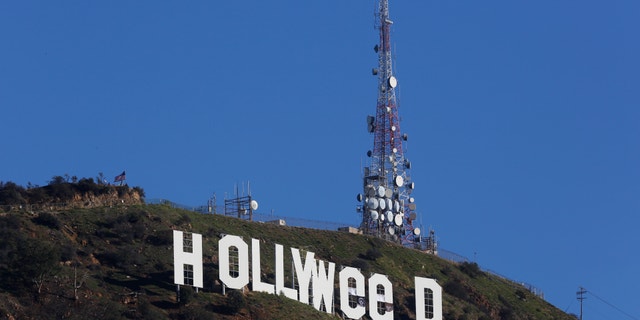 NEWYou can now listen to Fox News articles!
The iconic "Hollywood" sign got a New Year's Day makeover from an unknown vandal who used a black tarp to transform the letters into a message celebrating marijuana.
Multiple social media images showed the new "Hollyweed" sign on Mount Lee overlooking Los Angeles. One of the black tarps appeared to have an image of a peace symbol and the other a heart.
Cops have surveillance video of the suspect, TMZ reported. The vandal, dressed in all black, could face a misdemeanor trespassing charge, said Sgt. Robert Payan. The person scaled a protective fence surrounding the sign and then clambered up each giant letter to drape the coverings, Payan said.
California in November passed a measure legalizing marijuana for recreational use.
Though the Prop 64 vote may have been an impetus to change the sign, it wouldn't be the first time someone has taken to the hills to alter the letters in honor of cannabis. A vandal also changed the sign to read "Hollyweed" on New Year's Day 1976, TMZ reported.
The Associated Press contributed to this report.