Van crashes into Seattle Gap store; injuries reported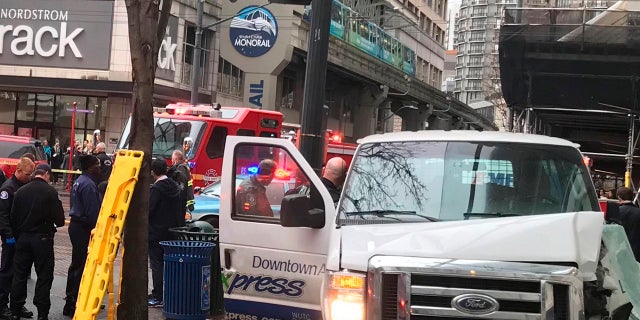 Six people were rushed to hospitals after a van rammed into a Gap store in downtown Seattle on Thursday, authorities said.
The Shuttle Express vehicle struck the clothing store shortly before noon local time, KIRO-TV reported.
The van driver had suffered a medical condition and lost consciousness, officials said. The van jumped a curb, went up onto the sidewalk and struck four pedestrians. A fifth person was struck by glass from windows that shattered when the van hit the store, the report said.
One victim, a man in his 30s, was in critical condition, while two women, ages 28 and 39, and a 52-year-old man were in satisfactory condition, according to hospital officials, the Seattle Times reported.
The conditions and locations of the two other victims were not immediately known, the newspaper reported.
The driver, who was not hurt in the crash, was also taken to the hospital to be evaluated, KIRO-TV reported.
Officials said there was no indication that the crash was intentional, the station reported.
The one passenger in the van at the time of the crash was not hurt and was able to help get the van stopped and turned off, the report said. The van has major damage to one fender, while the Gap store had shattered glass.
John Clarke, who works downtown, told the Times he was walking when he saw the van suddenly swerved before crashing into the building about 15 feet in front of him.
"It jumped the curb. I yelled," Clarke said. "It came toward the building and hit the building."
Clarke said he saw the man and woman hit by the van.
"I thought she was dead," he said.