Utah trooper knocked into the air by out-of-control car
Shocking dashcam footage from a Utah state trooper's vehicle captured the moment an out-of-control car on a snowy highway hit the sergeant, rocketing him into the air.
The footage of Sunday's accident, released by Utah Highway Patrol, shows Sgt. Cade Brenchley pulling over to the side of a highway in Sardine Canyon to respond to the driver of a vehicle that slid off the road.
Brenchley, a 13-year veteran of the state's highway patrol, gets out of his vehicle to walk over to the disabled vehicle when suddenly a small black car slides out of its lane and through the snow, striking the trooper from behind and sending him flying through the air.
Brenchley's body hits the car he was responding to and lands on the ground, near the vehicle's passenger side doors.
The car's driver, along with several other drivers, run out to assist the trooper, who appears to be moving very little. The Department of Public Safety said the quick-thinking bystanders used Brenchley's patrol car radio to call for help.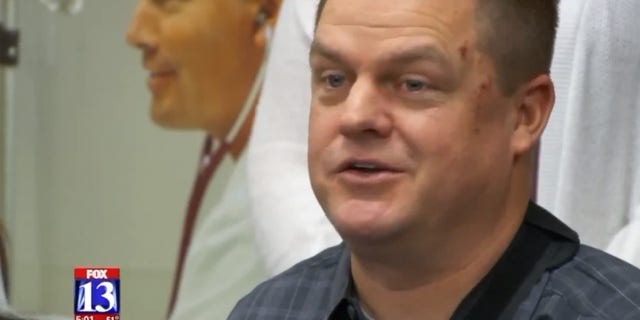 In the moment he was hit, Brenchley told Fox 13, everything turned black.
"I woke up and saw snow and I was laying there and it knocked the wind out of me and I was gasping for breath," he said.
Brenchley suffered broken ribs and a broken shoulder blade in the accident. Officials noted that the trooper was the 11th to be hit on Utah roads in 2018.
Brenchley, a married father of four, said he's "truly grateful" to be alive, and that "it's miraculous" that he only sustained the few injuries he did.
He hopes the video released of the accident will be a lesson to people to slow down while driving.
"When there's snow on the road you just need to check your ego and slow down," Brenchley told Fox 13.
Utah Gov. Gary Herbert echoed Brenchley's sentiments, urging on Twitter to "Please slow down and drive safely."