Utah teen unexpectedly delivers aunt's baby, report says
A 16-year-old girl in Utah reportedly delivered her aunt's baby girl over the weekend, only a few days after being taught about child birth in high school.
Morlie Hayes was home on Saturday when she got an unexpected visit from her aunt and 7-year-old cousin, she told the Deseret News on Monday.
"My mom's outside. She's going to have her baby!" the young girl told Hayes, according to the outlet.
Hayes' aunt, Laura Creager, was reportedly not expecting to have her baby for a few more weeks but ultimately had to make an unexpected stop at her relative's house in Eden, where she went into labor.
INFANT TWIN BOYS GET LIFE-SAVING BONE MARROW DONATION FROM 4-YEAR-OLD BIG BROTHER
As the teen talked to 911 dispatchers about what to do, she heard her aunt shout, "My water broke!" the Deseret News said.
Hayes reportedly jumped to action, cushioning Creager with pillows and towels and instructing her to lay on her back in the bathroom.
Minutes later, and after another strong contraction, baby Kayla was welcomed into the world, according to the outlet.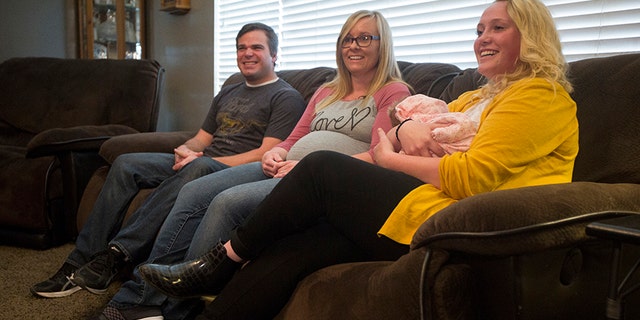 Recalling what she'd be taught in school, the teen reportedly checked the newborn's umbilical cord and coloring. She was cleaning the baby up by the time medical professionals got to the residence and cut the umbilical cord, the Deseret News reported.
UTAH FAMILY FINDS REMAINS OF ANCIENT HORSE IN BACKYARD
"My 16-year-old niece delivered the baby," Creager told the outlet. "She was amazing."
Hayes reportedly described her cousin's birth as "an amazing experience."
Creager's husband, Wendell, who was at a sporting event at the University of Utah when he learned of his daughter's birth, told the Deseret News that the moment "happened the way it was supposed to." Wendell joined his family at the hospital and met his newborn daughter, the outlet said.
The Associated Press contributed to this report.