Utah parents kill their 2 children before themselves after believing mom had terminal disease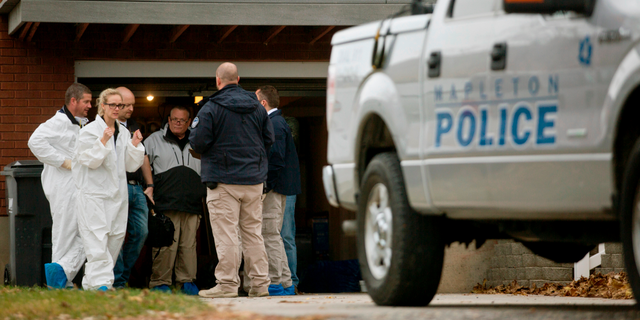 A couple who recently moved from Switzerland to Utah planned a murder-suicide that left their family of four dead in November after they believed the mother was suffering from a terminal disease, a new police report stated.
Jessica Griffith, 43, believed she had ovarian cancer and texted her husband Timothy Griffith on Oct. 25, 2017, about picking a "good time to leave" so they would be together and "love for eternity," the police report made public on Wednesday stated.
The family was found dead on November 9, 2017, after neighbors became concerned when their car didn't move for a few days, People reported. The family died just a few months after they moved to Mapleton, Utah, from Switzerland.
An autopsy, however, found Jessica Griffith was healthy before she died, Mapleton police Chief John Jackson said Thursday.
FLORIDA SCHOOL RESOURCE OFFICER HAILED A HERO AFTER RESPONDING QUICKLY TO SHOOTING THAT INJURED ONE STUDENT
It's not clear why she spoke extensively with her husband about her pain and sent him links to ovarian cancer websites, he said. People reported Timothy Griffith was researching mass shootings, guns and sleeping pills online.
"We wish we knew the answer to that," Jackson said.
Police believe the couple put sleeping pills in hot chocolate before the mother and the children drank the beverage. The family was eating fondue and played a game of Uno before the murder-suicide.
Timothy used a pistol to shoot his sedated wife, her 16-year-old daughter and the couple's 5-year-old son, Alexendre Griffith, along with the family's German shepherd before killing himself.
The couple had met and married in Switzerland. Timothy was American, but had moved to Europe after meeting his first Swiss wife when she was a high school exchange student, according to his family.
Timothy and Jessica were both married when they met and ended their previous marriages acrimoniously. Jessica had her daughter, Samantha Badel, with her previous husband.
BODY CAMERA FOOTAGE SHOWS POLICE NEVER GOT OUT OF CRUISER TO CHECK FOR OHIO TEEN CRUSHED BY MINIVAN SEAT
Jessica had cut ties with her Swiss relatives after saying she was abused as a child, though her family denies that, Jackson said. Friends told police that Timothy had also had rough childhood experiences.
After the two married, Timothy's relationship with his children from his first marriage grew distant as he became violent with them, his ex-wife told police.
The family moved to Mapleton, about 55 miles south of Salt Lake City, for Timothy's job with Nestle.
Neighbors said the daughter only spoke French, making it hard for her to make friends at her high school. Police believe the couple was having marital problems before they died. Text messages showed they spoke about money problems and intimate marital woes. The police report stated Timothy was contacting women on Craigslist.
Jessica proposed celebrating Christmas early last year by telling the children she had to go to the hospital. Spending time around the Christmas tree would help them the children "leave in peace and joy," she said.
Timothy worried his teenage stepdaughter might sense something was strange but agreed, the police report said.
Before the couple carried out the murder-suicide, they contacted their former spouses and family members. Jessica Griffith apparently tried to mask her involvement in the planning by deleting texts, the report said.
The Associated Press contributed to this report.