Utah National Guard investigates risque video of women with guns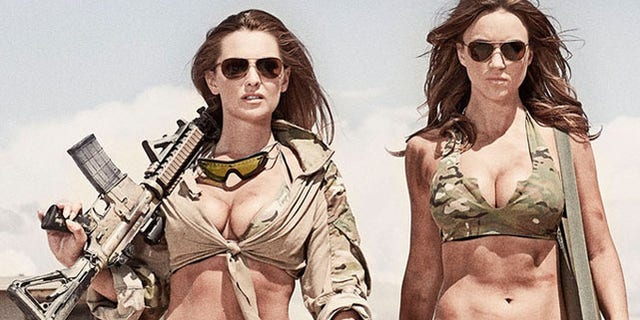 SALT LAKE CITY – A risque video shot in conservative Utah featuring bikini-clad women firing high-powered weapons and riding in tanks for a pinup calendar has raised the ire of a pair of law enforcement agencies who suspect some of their equipment and officers may be in the film.
The Utah National Guard learned about it Tuesday and is determining if military equipment was used in the video, Lt. Col. Steven Fairbourn said. The Utah National Guard didn't give permission for the project, he said.
The Utah Department of Public Safety believes two of their officers are in the video wearing agency uniforms in violation of agency policies.
Both agencies criticize the video -- a promotional "behind the scenes" look at how they shot this year's "Hot Shots Calendar" -- for its edgy content. It features British women wearing camouflage bikinis and other tight clothing while shooting guns, riding in military-type vehicles and striking seductive poses.
"Productions of this kind are not in keeping with the values of the Utah National Guard nor its members," the National Guard said in a statement.
The England-based company that produced the video wasn't immediately available for comment.
The National Guard learned about the video on Tuesday, and it's hoping to wrap up its probe of the incident in the coming days, Fairbourn said.
Public Safety officials are doing an internal investigation and plan to send the findings up to the agency commissioner, who will determine if discipline is warranted. The agency said in a statement they noticed their officers in the video when they first saw it on Thursday.
"Wearing department uniforms at an event not sanctioned by DPS, nor portraying the values of our agency is very disappointing," the agency said in a statement.
The video was shot at a private gun club about 35 miles west of Salt Lake City, called Big Shot Ranch. Employee Nikko Kelaidis said it was filmed this summer on the club's 68 acres of land located near the southern tip of the Great Salt Lake.
He wasn't there for the shoot and didn't know whose equipment was being used, but Kelaidis did say the tank in the video doesn't belong to the club. The owner of the gun club is out of the country, but may issue a statement later Friday, Keladis said.