Utah man freed from Venezuelan jail describes ugly ordeal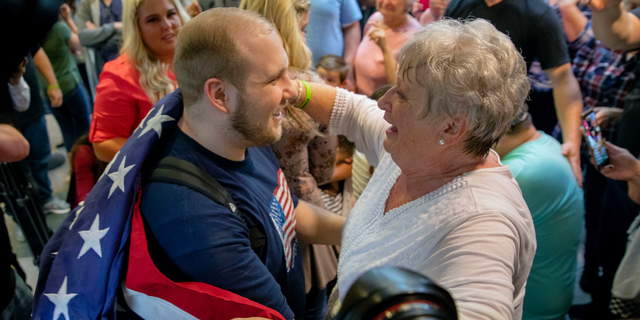 NEWYou can now listen to Fox News articles!
NEW YORK – A Utah man recently freed from a Venezuelan jail after two years detailed his harrowing experience, describing how he initially was stuffed in a tiny, hot cell with cockroaches while his new wife had her fingers placed in pencil sharpeners.
Joshua Holt spoke about his ordeal Tuesday on NBC's "Today Show."
"At the very beginning it was horrible," the 26-year-old Holt said. "They put me in a cell that was no bigger than what a twin bed would be. They had covered the door with a plastic bag, so I wasn't getting very much air. It was super, super hot. So I was literally just lying on the ground just in my underwear and just sweating as cockroaches are crawling all over me. They never took me out to go to the bathroom, so if you had to use the bathroom, you either had a bottle or a newspaper."
Meanwhile, Holt said his wife, Thamara Caleno, was in a cell with a group of other women and being threatened by Caracas police.
"They were trying to get her to go against me," Holt said. "While they were trying to fill out paperwork to get her to sign things saying that I was a bad person — she didn't want to do it. She knew it was all fake. They started to put her fingers into pencil sharpeners to take off her nails (and) scare her. They tried to scare her with Tasers."
The couple was released on May 26 after months of back-channel talks between U.S. politicians and close allies of Venezuelan President Nicolas Maduro. Holt traveled to Venezuela in June 2016 to marry Caleno but was instead jailed on weapons charges he and his family said were bogus. His wife was arrested in the same sweep. After being welcomed home by President Donald Trump in an event at the Oval Office, the couple returned to Utah.