Utah gun-rights group plans nation's first 'open carry' run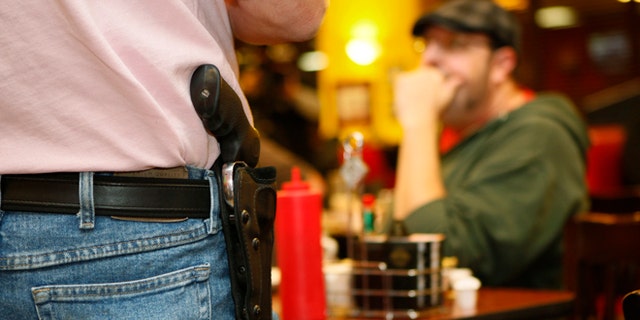 NEWYou can now listen to Fox News articles!
SALT LAKE CITY – Running with scissors is generally considered a risky endeavor, but one group of Utah residents says running with a gun isn't.
Organizers of the "Run 4 Guns" planned for this fall in Spanish Fork, Utah, are touting the event as the nation's first open carry run.
The group is inviting runners to bring not only their tennis shoes and water bottles, but their gun holsters, as well.
Organizer Macgregor Whiting of Mapleton said the September 5K race, which was first reported by Salt Lake City Weekly, aims to celebrate Second Amendment rights and show that gun owners are responsible, normal people. In addition to the 3.1 mile race, they'll have a half-mile "armed dash."
Proceeds from the event will go toward victims of gun violence, Whiting said.
"Our purpose is to create more awareness and to make a difference," Whiting said Friday. "We want gun owners and the right to bear arms to be seen in a true light and to be respected. And we also want to show our concern, and show that we, as citizens, we value giving back and making a difference in our community."
Whiting said it's frustrating that most of the channels to give back to victims of gun violence are organizations that promote gun-control policies. According to the race website, run4guns.com, organizers are seeking a charity to give the money to and may end up directly giving the proceeds to individual victims of gun violence.
Gary Sackett with Gun Violence Prevention Center of Utah says the event sends the wrong message and could lead to an accidental shooting.
"Raising money for victims of violence of any kind is a worthy cause and should be supported," Sackett said. "As to the necessity or even the symbolism of strapping on your guns to do so, seems to us to be at best, sophomoric and juvenile."
Sackett said that if people are running around with firearms that contain ammunition, it's "just asking for trouble. And there's no particular point to it."
Whiting said people who say the event is a dangerous or unsafe idea have limited knowledge of and experience with firearms.
Second Amendment activists "are so often painted as extreme and insensitive," Whiting said, and if enough people show up for the cause and demonstrate that they're not misusing the weapons, it will dispel that idea.
Participants in the race will be asked to secure their guns in a holster or zip tie the weapon so it's disabled and the trigger cannot be pulled.
The Spanish Fork Police Department said no one was available Friday to comment on the run or on any concerns about the safety of the event. Spanish Fork Mayor G. Wayne Andersen did not return a message seeking comment.
Dave Larsen, manager of Doug's Shoot N' Sports in Taylorsville and a former police officer who spent more than 10 years as a certified firearms instructor, said if organizers are checking weapons and ensuring that they're in a holster or zip tied, there shouldn't be a safety issue.