Utah firefighter adopts German shepherd he rescued during California wildfires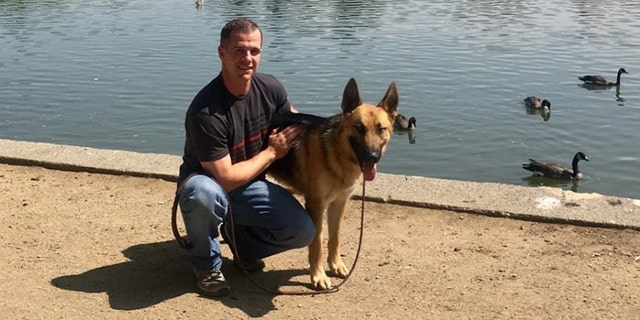 A German shepherd who Utah firefighters found "huddled under a tree" during the California wildfires has found a new home.
A Draper City firefighter, only identified as Patrick, adopted the dog after rescuing him while battling the Mendocino Complex fire, the Mendocino County Animal Shelter said Saturday. The firefighters from Utah immediately befriended the dog, who they named Mendo.
"After receiving excellent care by the staff at Mendocino Animal Hospital, this dog now named Mendo by his firefighting friends, came to the Ukiah Shelter. It was clear from the start, if not found by his guardian, Draper City fire fighter Patrick wanted to adopt him," the shelter wrote on Facebook.
Mendo passed all health tests and was neutered before two volunteers took the dog to Reno, Nev., to start his new life.
Draper Fire Department lost fellow firefighter Matthew Burchett on Aug. 13 while fighting the Mendocino Complex Fire, the Sacramento Bee reported.
"Mendo has been reunited with fire fighter Patrick who found him while battling the Mendocino Complex fires. The Draper Fire Department team from Utah lost their co-worker Matt during this fire. We know Mendo will help them heal," the shelter wrote in a second post.