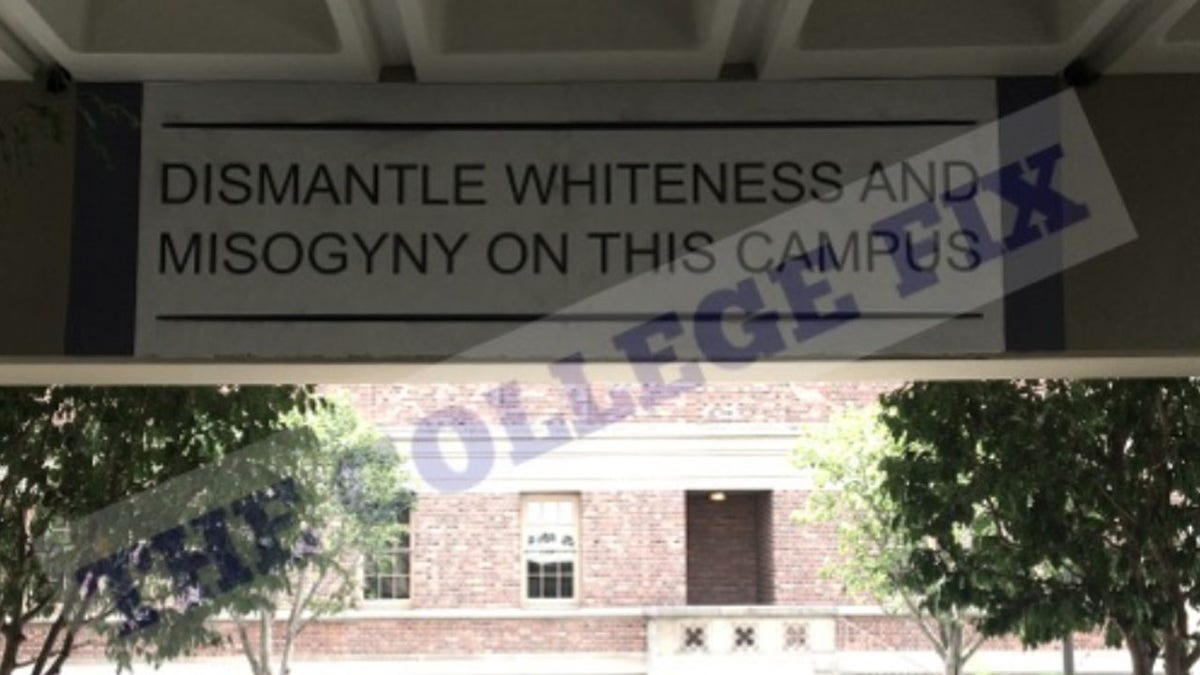 A new mural calling for the dismantling of "whiteness" has sparked controversy at the University of Southern California.
The mural, part of a USC Visions and Voices "Off the Wall" series of multi-media installation, features the images of four women and with the words "Dismantle whiteness and misogyny on this campus" plastered above, The College Fix reported.
The controversial mural was erected by the school's Institute for Diversity and Empowerment (IDEA) and students from a class called "Women: Designing Media for Social Change" in partnership with When Women Disrupt, a self-proclaimed intersectional feminist artist collective and activist group.
CHRISTIANS AND WHITE PEOPLE GET 'UNMERITED PERKS,' LIVE 'EASIER' LIVES, GEORGE WASHINGTON UNIVERSITY SEMINAR SAYS
They define "whiteness" as "distinct from being white, whiteness refers to an unmarked and unnamed place of advantage, privilege or domination; a lens through which white people tend to see themselves and others; an organizing principle that shapes institutions, policies, and social relations."
The Dean of the USC Annenberg School for Communication and Journalism, whose building the mural is located outside of, issued a statement to Fox News defending the freedom of faculty and student groups to host events that feature controversial topics and issues.
"We understand that there may be those who disagree with the statement offered by the artists," the Office of the Dean said. "However, we firmly believe that civil discourse and the free exchange of ideas around sensitive topics are critical to the resolution of differences and to addressing issues facing our community and society as a whole."
In a statement to colleagues, provided to Fox News, professors Alison Trope and Taj Frazier said the students came up with the phrase "derived from conversations about race, gender, and class issues on campus."
The three-person feminist collective, When Women Disrupt – composed of Jessica Sabogal, Tatyana Fazlalizadeh, and Melinda James – has been traveling across the nation since the summer with similar projects. They gave presentations to various classes at USC and participated in a public program, the professors said.
CONTROVERSIAL DREXEL PROFESSOR BLAMES 'WHITENESS' FOR TEXS CHURCH SHOOTING
"By confronting communities in the public space with art that uplifts the voices and sacredness of people whom history has often rendered invisible and less than human, WWD's intention is to provoke greater discussion and thinking about the institutionalized and everyday systems of power and representation that reinforce racism, patriarchy, and inequity," WWD wrote on their website.
WWD has a lot of race-based black and white murals across the country that say things like "make whiteness the other," "America is black," "Liberation is not white," "white supremacy is killing me," and "I will not mourn the decline of whiteness in my America."
Charlie Kirk, the founder of Turning Point USA, called the mural "amazingly racist" and added "they are indoctrinating students being 'white' is bad" in a tweet.
It's unclear how long the mural will remain on campus.